Chocolate Crunch Brownies are rich with chips of chocolate in every bite.  24 huge squares and they couldn't be easier.  Dust a sugar heart for some love.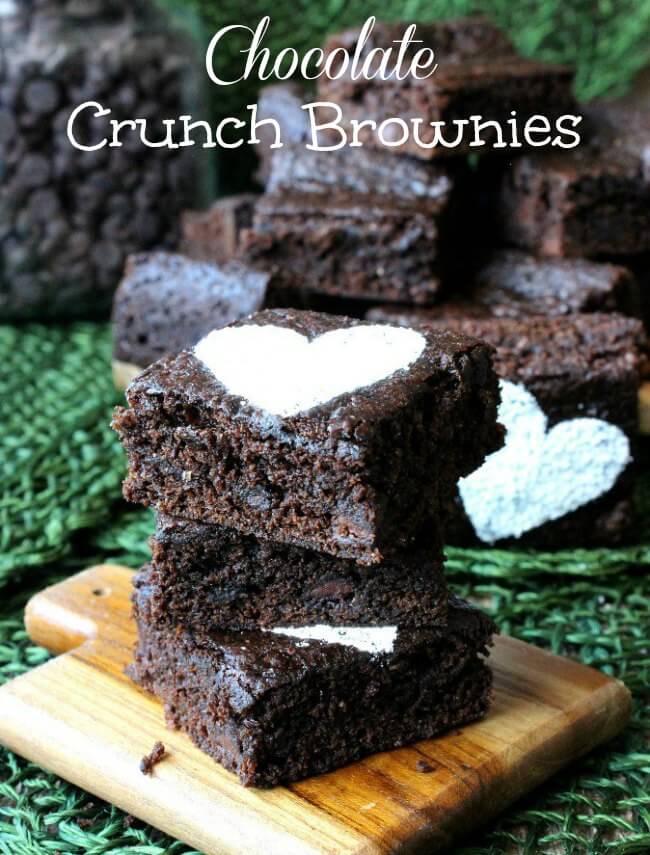 Chocolate seems to be such a comforting treat.  If I am ever wondering what to make as a dessert it is almost always chocolate.  It just seems a safe bet for everyone.
Chocolate Crunch Brownies is made a bit healthier which makes my family happy but it also delivers all the bells and whistles to your taste buds.
Company was over a couple of days ago and I had these brownies on hand. They didn't hesitate when I offered a plate full.  I hadn't put hearts on every piece and the four year old wanted to make sure he got one with a heart. Smart boy!
Pull out a big mixing bowl and stir up a huge stack of delicious Chocolate Crunch Brownies.
Connect with Vegan in the Freezer
Facebook   |   Pinterest   |   Instagram   |   Bloglovin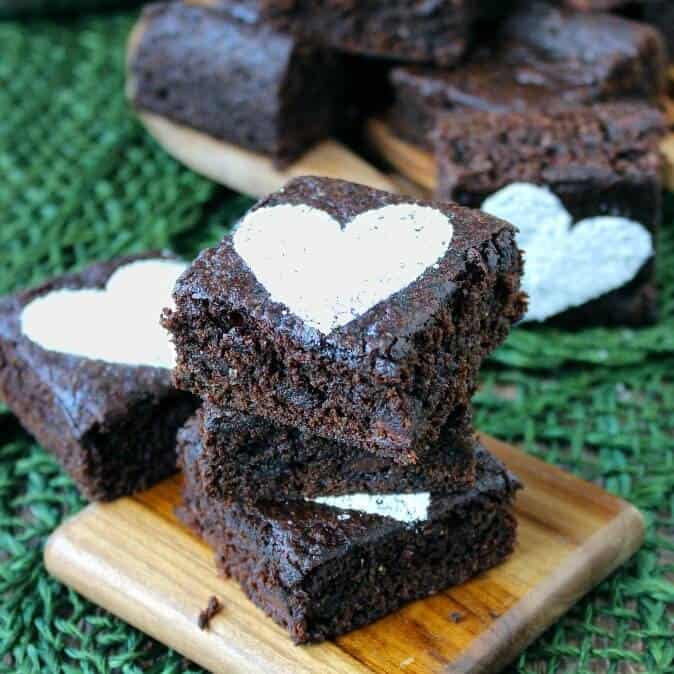 Chocolate Crunch Brownies
Chocolate Crunch Brownies are rich with chips of chocolate in every bite.
Instructions
Lightly oil a 9x13" baking pan

Mix the egg substitute and set aside. Follow package directions or use chia eggs. Here is how you use chia seeds. 1 Tablespoon chia flour and 3 Tablespoons water. To make the flour you need to grind chia seeds to a fine meal. The flour keeps perfectly in the freezer for future use.

In a large bowl add the nondairy milk, coconut oil, prepared egg substitute, sugar and vanilla extract.

Beat at medium speed with an electric mixer for about a minute or two until well mixed. Scraping down a couple of times.

To the same bowl add flour, cocoa powder, instant coffee, baking soda, cinnamon and salt.

Mix until well blended, scrapping down the sides.

Fold in the chocolate chips.

Spoon into the prepared baking pan and smooth evenly.

Bake at 350° for 40 to 45 minutes until a toothpick inserted in the center comes out clean.

Let cool on a wire rack for about 15 minutes.

Turn out onto a cutting board and cut into 24 squares. 4 across and 6 down with squares being a little bit bigger than 2" square.

Fold a heavier piece of stock paper in half and cut out a half heart shape that is smaller that 2" high.

Open up the paper and you will see your pretty heart shape.

Put about 1 tablespoon of powdered sugar in the dusting wand and set aside.

Lay the heart shape in the center of a cut brownie square.

Dust the powdered sugar over your cutout and carefully lift straight up.

Continue until you are done with your hearts.

Keep in an airtight container in or out of the fridge.
Recipe Notes
IF FREEZING: You may freeze the brownies in any of the methods shown in my article http://veganinthefreezer.com/preparing-food-for-the-freezer/. They defrost quickly so it really doesn't take any planning. Just put them in the refrigerator to defrost overnight or set out on a plate and it will take an hour or so to defrost.
Nutrition Facts
Chocolate Crunch Brownies
Amount Per Serving (1 Brownie)
Calories 157
Calories from Fat 54
% Daily Value*
Total Fat 6g 9%
Cholesterol 1mg 0%
Sodium 121mg 5%
Potassium 52mg 1%
Total Carbohydrates 23g 8%
Protein 2g 4%
* Percent Daily Values are based on a 2000 calorie diet.