Chocolate Chip Banana Bread Cookies have high fiber content and some extra protein. They fill you up and help keep you feeling satisfied. So delicious too!
Chocolate Chip Banana Bread Cookies are one of the first cookie recipes I made as a vegan.
Since I was so concerned about getting the nutrition that I needed I packed in lots of wonderful flax seed meal with it's Omega-3 fatty acids.
Lots of high fiber content fills you up and the extra protein helps keep you feeling full longer. Being whole wheat flour doesn't hurt either. So, in this case, a couple cookies will keep your energy up.
I may be getting into more scientific facts for this recipe but, on the surface, they are absolutely soft and chewy delicious cookies. Just keep that in mind and remember the sweet and lovely ingredients.
A problem that some people have when they first go vegan is that they feel hungry a lot. It's not the norm but I have heard it happens.
If they're truly eating enough calories the culprit is probably too little protein.
Protein is in every fruit and vegetable and if you eat all of the colors of the rainbow you will get enough protein.
As a beginner, you might want to make sure you're eating high protein foods until it all becomes more natural.
Chocolate Chips and its Health Benefits
Chocolate is rich in flavanols which helps blood flow. That's always good for the brain.
Make sure there is no milk in your chocolate chips. Then chocolates powerful antioxidants can continue to protect your body from oxygen free radicals that cause you to age.
Chocolate has loads of polyphenols which keeps the lousy LDL down and in turn, helps healthy HDL stay up.
A glass of red wine and chocolate reduces inflammation.
Even chocolate has protein.
As always, use moderation. About 1 tablespoon will do you.
This post contains affiliate links. Read my disclosure policy here.
What Are Some High Protein Ingredients for Baked Goods
Oats and oatmeal bulk up many delicious baked goodies.
Nuts and seeds. Whether whole, chopped or made into nut butters they are all very high in protein.
Hempseed (organic raw) is one of my favorites. I could eat the stuff with a spoon.
All beans and legumes offer lots of protein. Yes, many cookies and brownies have beans in them. Dreena's Crazy Brownies as amazing!
Quinoa. Nuff said. Well, I should say I have a no-bake recipe with quinoa and chocolate that is so very good. I'll share soon and link back.
A few higher protein fruits are avocado, blackberries, and bananas.
Nut milk in any form - Oat milk too. Here's my Almond Milk recipe and a picture!
The lucky thing is that many of the food that gives you extra protein also gives you fiber. A winning combination.
How Can You Get More Fiber In Your Cookies
Chia seeds, as well as flaxseed, are often used to replace eggs but you can also sprinkle in a tablespoon or so into the batter for some added fiber.
Rolled Oats or Old Fashioned Oats are a super way to add quick fiber and protein to cookies. It's often used in baked and non-baked recipes.
Nuts add fiber and there are numerous choices so you can always find what you like.
Cereal but especially helpful is bran cereal. they come in flakes and buds and both are a great addition to the batter.
Berries, cranberries, and cherries are great for additional fiber. These Dairy-Free Oatmeal Cranberry Cookies have it all too.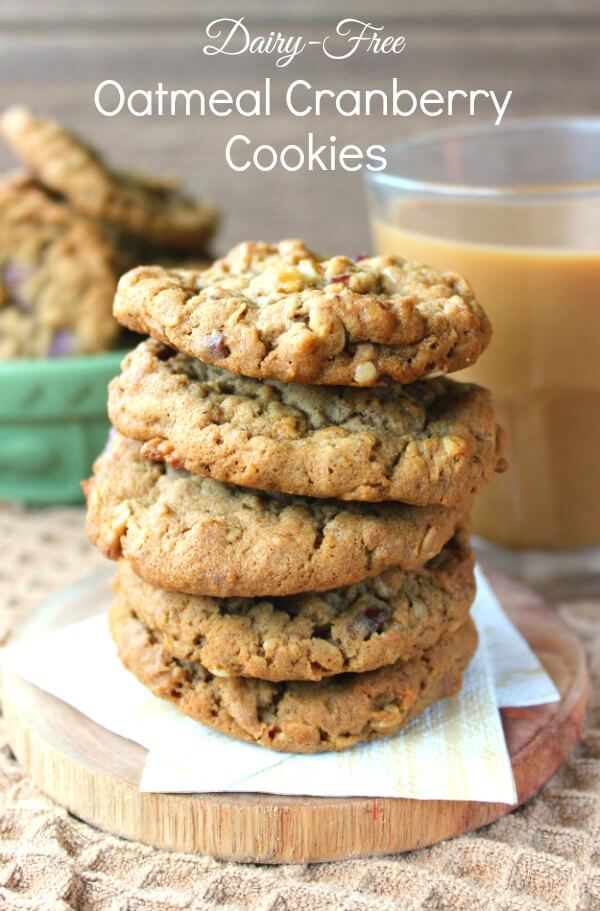 You won't believe how far one or two cookies will carry you. Chocolate Chip Banana Bread Cookies taste as good as they sound.
Have fun making and eating these nutritious cookies. I mean they're Chocolate Chip Banana Bread Cookies!
Chocolate Chip Banana Bread Cookies
Chocolate Chip Banana Bread Cookies are protein rich and high in fiber!
Ingredients
2

tablespoons

chia seeds or ground chia seeds

1

cup

whole wheat flour

½

cup

almond flour

½

cup

flaxseed meal

½

scoop

protein powder

½

teaspoon

baking soda

½

teaspoon

sea salt

¾

cup

dairy free butter, softened

⅔

cup

coconut sugar

⅓

cup

brown sugar, organic, packed

1

teaspoon

vanilla extract

½

cup

mashed banana, 1 small banana

1

cup

dairy free chocolate chips
Instructions
Cut parchment paper to fit on a baking sheet. Set aside.

Mix chia seed with 6 tablespoons water and set aside.

To a large bowl add both flours, flaxseed meal, protein powder, baking soda, and salt. Set aside.

To a mixer bowl add dairy free butter and both sugars. Cream on medium speed for 5 minutes.

Turn off beater and add the prepared chia seed mixture, vanilla and banana. Mix well on medium speed.

Add the dry ingredients and keep mixing until just combined.

Remove the mixing bowl and fold in the chocolate chips.

Scoop heaping tablespoons on the prepared cookie sheet. This will make 24 cookies. You may need two or three cookies sheets depending on the size of your baking sheets. Roll into balls and place 2" apart and flatten with the bottom of a glass to about ½" thick.

Bake at 350 degrees for 12 minutes.

Cool on a wire rack.
Nutrition
Serving:
2
Cookies
Calories:
165
kcal
Carbohydrates:
18
g
Protein:
6
g
Fat:
8
g
Saturated Fat:
1
g
Sodium:
129
mg
Potassium:
79
mg
Fiber:
2
g
Sugar:
10
g
Vitamin A:
290
IU
Vitamin C:
0.6
mg
Calcium:
37
mg
Iron:
1.2
mg
Freezing:
Freeze in airtight containers for up to 4 months. They defrost quickly and you can even eat them straight out of the freezer.
Ice cold and not hard and so good!