Vegan Chicken Tetrazzini Casserole has a rich white sauce and is a family favorite. Give it a try the next time you would like a wonderful Italian meal to serve to friends too.
Vegan Chicken Tetrazzini became reality a few years ago. I am not sure where I originally got this idea but it has been floating around in my head for over 20 years.
Guests and family have all enjoyed it and I would like to pass the recipe on to you. It starts with a roux and then when additional ingredients are added the flavors become more than delicious.
Of course, my 'chicken' is seitan and it works great. I've also made a list of my favorite vegan chicken substitutes. Give this recipe a try the next time you would like a wonderful Italian meal and you will be happy you did.
It really is a great go-to. You can make it ahead for the whole family or future company. And the recipe is large so you can divide it into appropriate sized casserole dishes for your family.
We only have two in our family so this recipe makes three small casseroles with leftovers. We eat one and two go in the freezer for another night when I am too busy or just don't feel like cooking.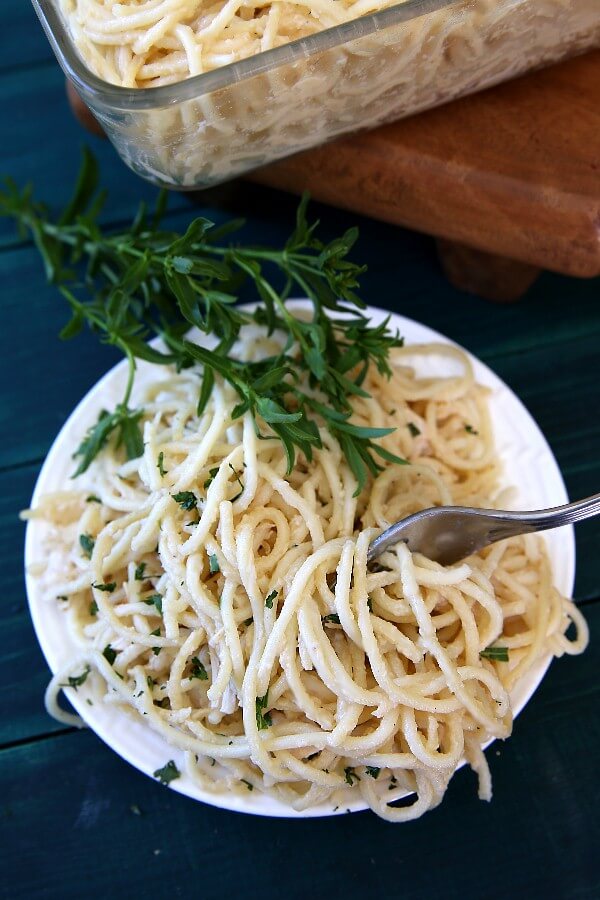 HOW DO YOU MAKE A ROUX AND THEN A SAUCE?
A roux is the beginning of a sauce and it starts with butter and flour. In our case, it's dairy free butter.
For this recipe, melt the butter in a large skillet. A deep skillet too. You'll need the room to add the spaghetti and stir in before adding to a casserole dish.
Add the flour and it is often the same amount as the butter. This time the flour is one tablespoon more. Stir until all is well blended. It will seem like a thick clump of moist flour and that's a good thing. Keep stirring for about a minute. This cooks out the raw taste of flour.
THAT'S THE ROUX AND NOW ON TO THE SAUCE!
Pour in the dairy free milk or whatever liquid your recipe calls for. It could be a broth or stock but this recipe is for dairy free milk and also vegetable broth. Bring to a low boil and stir often. It will thicken as it comes to a boil.
The sauce may become clumpy but keep stirring. The clumps will smooth out. I love this type of stirrer as it helps make it smoother faster than a wooden spoon.
Keep stirring until it's smooth and thick and add the salt and pepper. If it becomes too thick just add more milk or even a little water. Stir well and taste to make sure it's seasoned enough.
Now for this recipe small pieces of seitan and some dairy free cheese are added. More directions in the recipe card below but this is the basic sauce for this recipe.
The flavors for this sauce are fantastic. It's classic Bechamel Sauce with dairy free cheese and small bits of seitan added.
Make sure you choose a 'cheese' you love because you will definitely taste it as an underlying flavor. It makes a difference.
Seitan is sold in small packages and it works very well for this recipe.
It's steamed and it's perfect! Just scroll down inside that link to the steamed 'chicken' recipe and follow those instructions.
It's so good and really inexpensive. If there is ever any extra seitan - it freezes perfectly.
So get out your big ol' skillet to start your roux. Simply add two ingredients, start stirring, add a couple more ingredients and you're on your way.
📋 Recipe
Vegan Chicken Tetrazzini Casserole Recipe
Vegan Chicken Tetrazzini Casserole has a rich white sauce and is a family favorite.
Ingredients
¼

cup

dairy free butter

5

tablespoons

all-purpose flour

- that's ¼ cup plus 1 tablespoon

1 ½

cup

dairy free milk

1 ½

cup

vegetable broth

11

ounces

seitan

- you can also make your own seitan

16

ounces

spaghetti

- uncooked

1

cup

dairy free mozzarella cheese

- shredded

1

teaspoon

sea salt

¼

teaspoon

pepper

- I use a mixture of black, white and pink pepper
Instructions
Oil or butter a glass casserole dish. This would do one dish 9" x 13" or do two or three smaller ones. I do the three small ones and freeze two for the future.

Break the spaghetti in half before cooking. In a large saucepan add enough water to generously cover the spaghetti. Bring the water to a boil.

When it comes to a boil add one tablespoon of salt to the water. This is important for the spaghetti to get some seasoning. Add the spaghetti to the boiling water and cook as directed on the package. Drain and set aside.

Open your package of seitan and cut into small pieces. I put the seitan in a food processor and pulse it about 5 times to chop and shred. Set aside.
Make the roux and sauce:
In a large deep skillet, over low heat, melt your butter.

When the butter is melted add the flour. Stir over low heat for a couple of minutes to cook the flour mixture.

Add the milk and vegetable broth. Cook to a boil but stir often so it doesn't burn. As soon as it comes to a boil turn the heat down to low. Cook for about 10 to 15 minutes.

The sauce will also thicken with the addition of the dairy free cheese and seitan.

Add the 'cheese' and stir to melt. Add the seitan and stir. Season with salt and pepper. Ad the prepared spaghetti and mix together.

Pour into your prepared casserole dish or dishes. These will keep in your refrigerator for three days.
TO BAKE NOW:
Cover the top of the casserole with the lid or foil and bake in a preheated over at 350° for 20 minutes. Remove the lid or foil and bake 10 minutes.
Nutrition
Serving:
1
Serving
Calories:
508
kcal
Carbohydrates:
73
g
Protein:
23
g
Fat:
15
g
Saturated Fat:
3
g
Sodium:
926
mg
Potassium:
370
mg
Fiber:
3
g
Sugar:
1
g
Vitamin A:
440
IU
Calcium:
120
mg
Iron:
4.5
mg
See? Not hard at all and you have lots of delicious food for dinner or even for more than one dinner. Sometimes I even want a little of the leftovers for lunch the next day.
This is what I do, I add as much as I want into a cereal bowl. Then I splash some dairy free milk over that and microwave for 1 ½ to 2 minutes.
Stir it up and have an absolutely delicious pasta meal for lunch. How can you beat that!
Can You Freeze this Vegan Chicken Tetrazzini Casserole?
Yes! - TO FREEZE:
Let cool to room temperature. Freeze in one of the defined steps in my article Prepare Food for the Freezer
TO PREPARE AFTER FREEZING:
Remove from the freezer and put in the refrigerator overnight because it is a pretty solid mass and will take longer to defrost.
The night of serving - Cover the top of the casserole with foil and bake in a preheated over at 350° for 30 minutes.
Take off the foil and bake another 10 minutes.