This Ice Cream Cone Recipe for Chia Waffle Cones are mildly sweet and will hold as much ice cream as you want. With only 5 ingredients these sturdy yet tender cones are perfect for your dessert snacks. Make them any size you like too.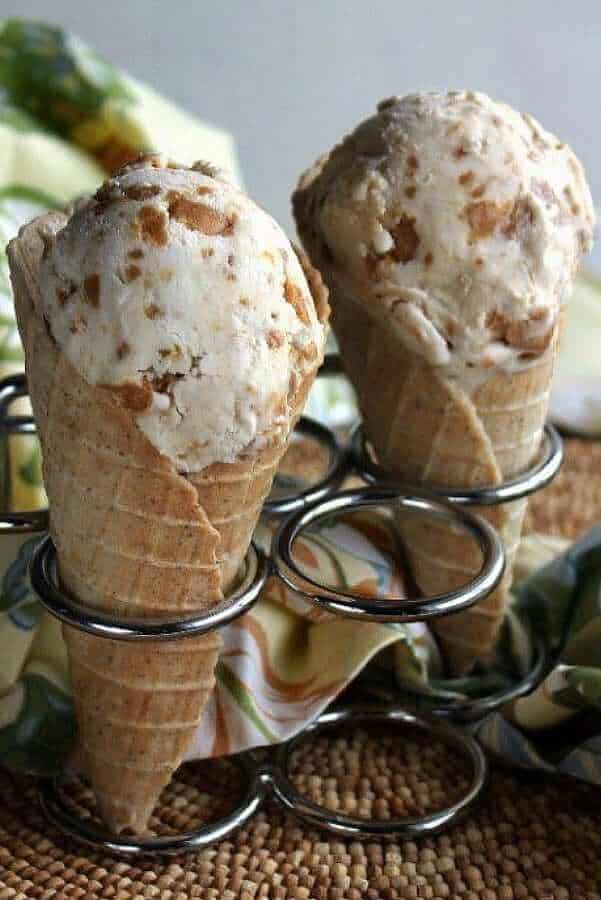 Oh boy, here we go again! Something I thought I would never be able to make.
Homemade waffle cones always sounded like a lot of work to me, It seemed like a complicated kitchen process but guess what? It's not!
All you need is an ice cream cone recipe, an ice cream cone maker and a little instruction on how to make waffle cones.
And there is nothing better than the smell of fresh cones that smell like cookies. It's like you are in your very own ice cream shop.
What's even more exciting is that these goodies are vegan. And they're only slightly sweetened with organic granulated sugar!
You have to make these vegan ice cream cones. There is no egg or dairy and you'd never know it. You are going to have everyone smiling with pure pleasure.
Waffle Cone Maker
Okay, you'll need a waffle cone maker. But you can find some good ones easily online and in stores. I've had Chef'sChoice waffle cone maker for a few years and it still works great but you can find a cheap one on online.
It is so worth the small investment because once you make homemade waffle cones you won't want to go back to store-bought.
The machine comes with a waffle roller and you can adjust the size to make cones the size of a traditional sugar cone or make the very large waffle cone that will hold two or three big scoops of ice cream. I stick to the smaller size.
You can also make triangles to garnish bowls of ice cream. Cut the flat round into pizza type slices before the cone hardens.
And you can place the cooked round into a bowl and press it down so that you have a wavy-edged bowl for ice cream.
Any of these manipulations have to be done fast because they cool very quickly and then there's no shape changing allowed.
Because the cones are so easy to make you will want to use this recipe over and over again especially for birthday parties or other special events.
Be prepared for some praise when you tell everyone that you made these cones!
How to Make Waffle Cones
These Chia Waffle Cones are super easy to make. The batter only contains five ingredients and once combined everything goes super fast.
I also love that these cookie cones are not overly sweet — just enough sweetness with that perfect crunch. And they are sturdy too!
When I first tested this recipe, I didn't have any ice cream ready. So I enjoyed the cones like a cookie. They tasted delicious. So if a waffle cone is good on its own, imagine it with your favorite ice cream.
To make the batter, I used chia egg flour and dairy-free butter to make the recipe vegan-friendly. In the notes below, I leave some suggestions on how I grind and store chia seeds to make a chia egg.
You will also use less water with the chia seed flour versus just the seed so you won't get as many cones with just a chia seed egg.
The consistency of the batter is little thicker than pancake batter. See the photos below. And as I said before you can make smaller or larger cones by changing the amount you put in the waffle cone maker.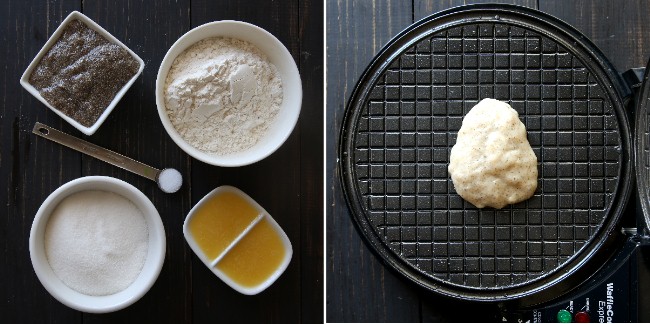 Two tablespoons are good to me and four tablespoons (or ¼ cup) are big waffle cones. That may even go over the edge. You can also see in the photo below how far just two tablespoons spread out in the waffle cone maker.
I like to set my heat on 3 for my cones because I like them when they are just starting to turn color. It only takes about 1 to 1 ½ minutes for each cone.
Rolling Up the Ice Cream Cones
So now you lay the cooked batter disc on a folded cloth. Then you lay the cone mold on the cooked batter round. Leave some edge at the end because as you roll up you need to pinch the end closed. That's so ice cream won't leak out as it melts.
The reason you lay the disc on the folded towel is because you need to manipulate the cone disc around the cone mold and it is very hot.
You can see in the photo below how you would start to roll the dough over the mold with the towel to protect your hands. Pretty quick you can pull the cloth back and use your hands to roll it snug against the mold.
Don't forget to try yo pinch that end before it cools. Slide off the cone and there you have it.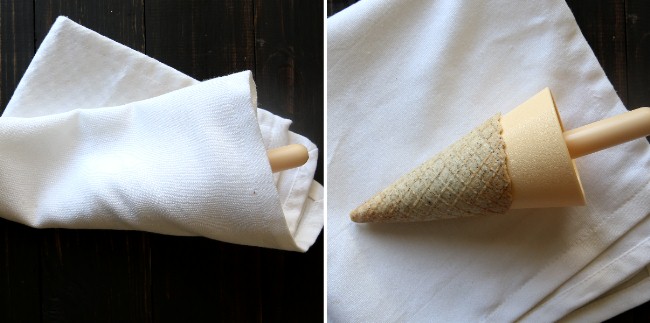 Don't fear. If the ends aren't closed enough when the cone starts to cool there's a great trick. Melt some chocolate and put a little of it in the inside of the cone to close-up the hole.
Then fill it up with ice cream. The cooled chocolate won't let any ice cream through and you get a little treat at the very end.
I have to say my husband was quite impressed with how delicious these ice cream cones turned out.
His son was here too and of course I need all the taste testers I can find to help me out. They had no idea I knew how to make waffle cones. They both gave me and the cones two thumbs up.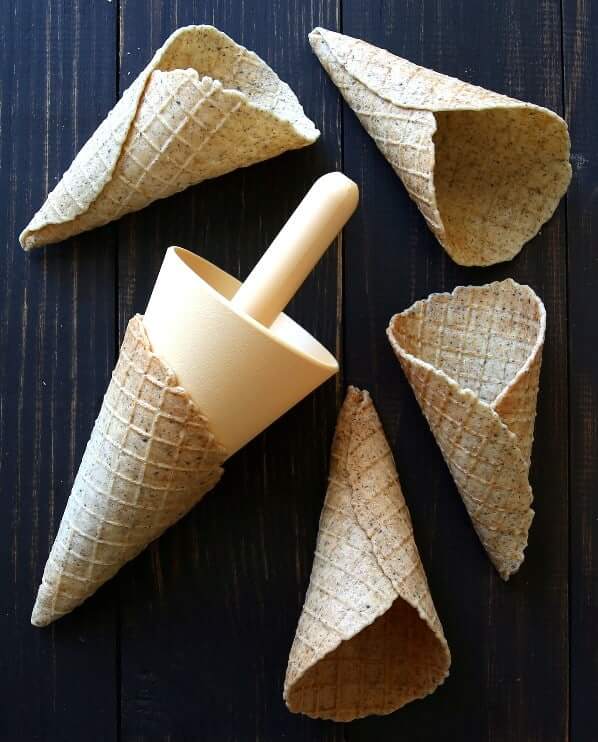 Now you know how to make them too and all that's left to do is fill up these beautiful cones with some incredibly creamy ice cream.
Here are some of my favorite vegan and dairy free ice cream recipes:
You have to try my Maple Peanut Butter Ice Cream. That is the starring ice cream in these photos for the homemade waffle cones.
Biscoff Cookie Butter Ice Cream is like nothing you've ever had and really really good.
Who doesn't like cookie dough and when you add it to ice cream it's a real treat. Check out this Peanut Butter Cookie Dough Ice Cream recipe.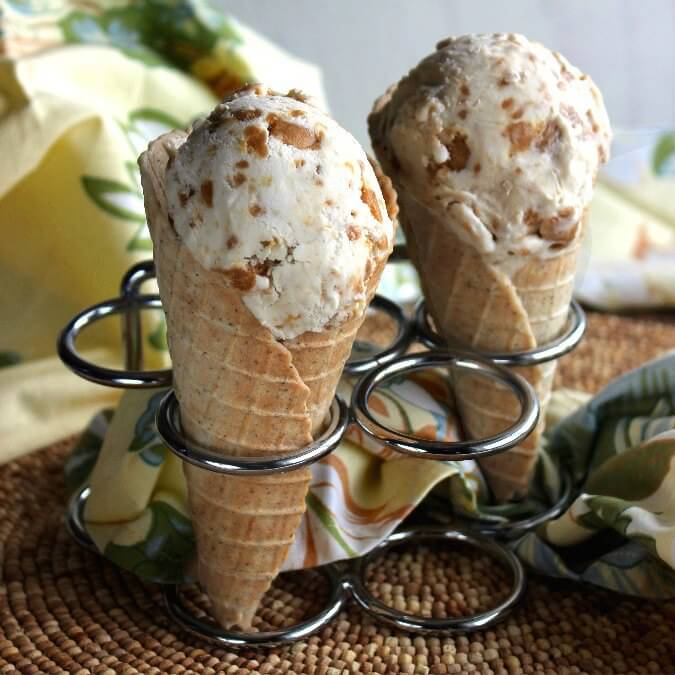 📋 Recipe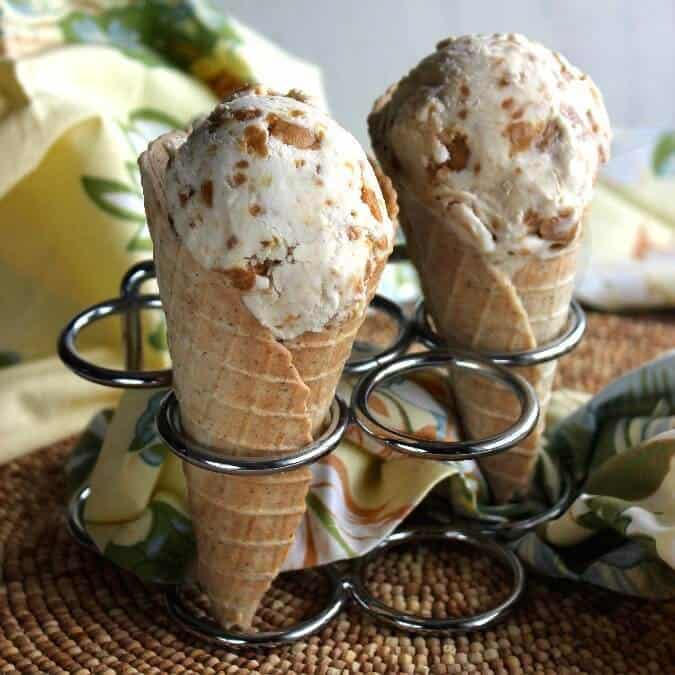 Chia Waffle Cones featuring Maple Peanut Butter Ice Cream
Chia Waffle Cones are mildly sweet and will hold as much ice cream as you want.
Ingredients
1 ½

chia egg which is 1 ½ tablespoon chia flour and 4 ½ tablespoons water

- see notes below

¼

teaspoon

salt

½

cup

organic granulated sugar

⅔

cup

all-purpose flour

2

tablespoons

dairy free butter, melted and cooled slightly

¼

cup

water
Instructions
Make your chia egg in a medium bowl and set aside as described below with the chia seed flour. If you use chia seeds then don't add the ¼ cup water. You won't get as many cones.

Preheat the Waffle Cone appliance and preheat to medium.

Add the salt, sugar and flour to the chia egg. Blend by hand as well as possible. Really work it in there.

Add the melted vegan butter and stir until well blended. Add the ¼ cup water two tablespoons at a time and make sure it isn't too loose of a batter.

Spoon 2 tablespoons of batter in the center of the hot iron.

Bake for 1 minute then check for proper color. Cook an additional few seconds if necessary.

If you would like your cones darker turn up the knob one number.

Quickly remove the waffle from the appliance onto a clean cloth towel.

You have to work fast to get the cone to set in its shape before it hardens. That happens quickly. You might want to consider the first one a test to see how it comes out and what you need to do.

Use the cloth to help lift and roll the waffle around the cone form. Pinch the very end to try to seal the tip before it hardens.

Hold the cone a few seconds to set its shape then place on a wire rack to cool.

All ready to fill with cool cold deliciousness.
Notes
A chia egg is actually made with chia seed meal/flour not the bare seed. The way you make meal/flour is by grinding the chia seed in a processor such as one for your coffee beans or a spice grinder. I use mine to strictly grind seeds so that I do not mix flavors. Grind until it is a fine meal. I do about 4 ounces at a time and keep it in a little freezer safe canning jar - in the freezer. When I need a Tablespoon or so it is all ready to go.
Nutrition
Serving:
1
Cone
Calories:
109
kcal
Carbohydrates:
19
g
Protein:
1
g
Fat:
3
g
Saturated Fat:
1
g
Sodium:
95
mg
Potassium:
18
mg
Fiber:
1
g
Sugar:
11
g
Vitamin A:
111
IU
Calcium:
14
mg
Iron:
1
mg