Cheesy Vegan Cauliflower Mushroom Casserole makes it hard for you to put down your fork. The texture is perfect and you might be tempted to double the topping.
Here's a cauliflower and mushroom dish I don't think you've ever had before. It's made with a mix of fresh veggies, a little nutritional yeast and a buttery crumble topping.
Each bite gives so much pleasure in the form of texture and flavor. I really can't think of a nationality that I could relate it too. I think it must be All-American.
This was one of the hardest titles I have had to come up with. There are so many stars in this recipe that I couldn't figure out how to name it so that you'd find it.
As it is there are five words in the title and none of them is 'recipe'. Hopefully, google search will figure that out for me.
If you're here then you found it one way or the other and I am really happy you did. I think you're going to really like it and who can complain about another good side dish recipe.
What Are Some Other Cauliflower Side Dish Recipes
I have so so many cauliflower recipes but I promise I won't leave you a big long list. Just a couple.
Mexican Cauliflower is another unique recipe. It's quite a spice list.
Pure Delicious Cauliflower is an old recipe that I turned vegan. Choose your very favorite dairy-free cream cheese.
Check out a pic of the Mexican Cauliflower!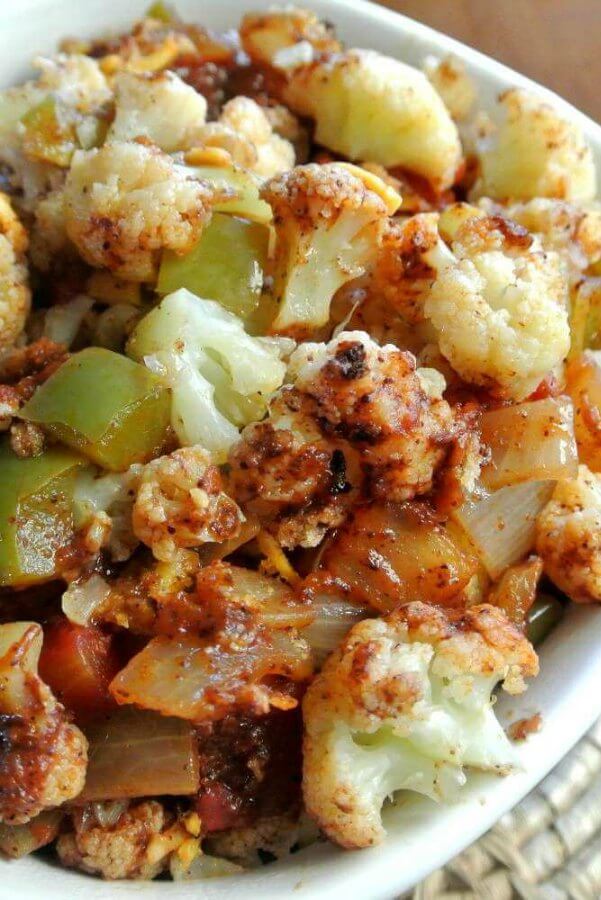 How to Core and Cut a Head of Cauliflower
There are a couple of ways you can do this. There's a 'chop way' which works great most of the time and a 'pretty way' which is great for looks.

For the 'chop way' use a cleaver type of knife and cut straight through the top at the center all the way through the core. Now cut those two pieces in half.
Flip one quarter on

its

side and chop longwise, as close as you can to the base of the florets. Do this on all four pieces.

Now you can pull the florets apart and cut the larger florets smaller. Done.

For the 'pretty way' use a culinary knife that has about a 6″ pointed blade. Flip the cauliflower to

its

underside. Cut all around the core at an angle so that you are making a cone shape inside the cauliflower. Pull out the core.
Pull the cauliflower apart in pieces. Pick up one bunch of florets and make a small slit as if you were going to cut the pieces

apart. Lay down your knife and pull apart the pieces. This

goes

very quickly.

Grasp the bunch with your fingers at the slit and pull apart from the underside. This lets the florets break at their natural split instead of making a hard knife cut. It is much prettier.
Tools to Help Make This Cheesy Cauliflower Mushroom Casserole
A 6-inch culinary knife with a pointed blade is a good length and shape to make short work for all your cutting needs.
Mini food processors come in so handy. In this case, you can use it for a small batch of bread crumbs and also dairy free parmesan cheese.
An 8″x8″ or 9″x9″ baking casserole will work just great.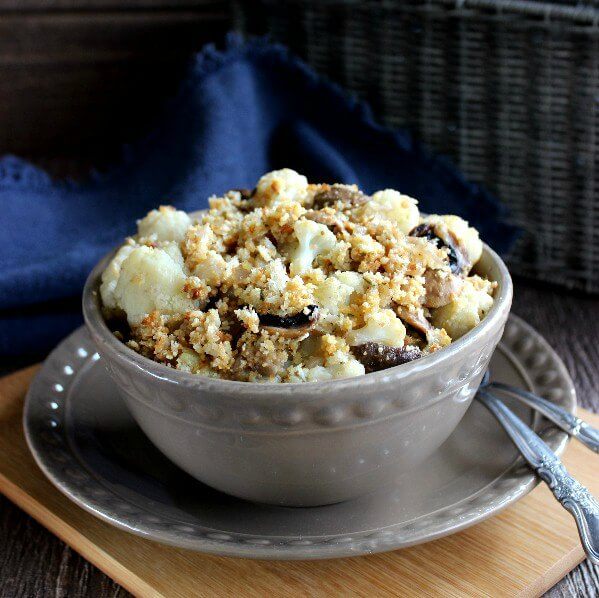 This post contains affiliate links. Read my disclosure policy here.
Let's Get Connected!
Facebook | Pinterest | Instagram | Bloglovin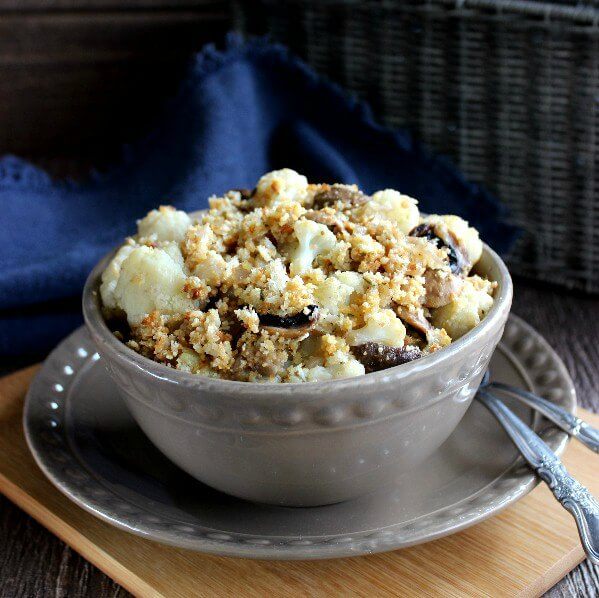 Print
Vegan Cauliflower Casserole with Mushrooms
This Cheesy Vegan Cauliflower Mushroom Casserole makes it hard for you to put down your fork.
Ingredients
1

head

cauliflower, cored and cut into florets

1

tablespoon

coconut oil

1/2

cup

white onion, chopped

8

ounces

button mushrooms, sliced

5

tablespoons

dairy free butter, melted

1

cup

bread crumbs

1/2

cup

dairy free parmesan cheese

1

tablespoon

nutritional yeast

1

teaspoon

parsley, dried

1

teaspoon

sea salt

1/4

teaspoon

ground black pepper
Instructions
Place the florets in a medium-size saucepan and cover with water. Bring to a boil and cook for 5 minutes.

Remove from the heat and drain. Place in a 9"x9" baking dish.

Heat the coconut oil in a large skillet over medium high heat. Add the onion and mushrooms and sauté for 10 minutes

Spoon the mushroom mixture over the cauliflower.

In a small bowl, combine the melted butter, bread crumbs,

dairy free parmesan cheese

, nutritional yeast, parsley, salt and pepper. Stir well.

Sprinkle over the vegetables in the baking dish.

Bake at 350° for 15 minutes.
Nutrition
Nutrition Facts
Vegan Cauliflower Casserole with Mushrooms
Amount Per Serving (1 Serving)
Calories 186
Calories from Fat 99
% Daily Value*
Fat 11g17%
Sodium 607mg25%
Potassium 306mg9%
Carbohydrates 17g6%
Protein 5g10%
Vitamin A 445IU9%
Vitamin C 19mg23%
Calcium 44mg4%
Iron 1.3mg7%
* Percent Daily Values are based on a 2000 calorie diet.