Cauliflower Rice Stir Fry is low carb and an easy recipe to make. Only 20 minutes for a delicious side dish that's also great to stuff in wraps.
It is great that cauliflower rice has become so popular and it is now used so often. The thing is that you can now buy it in the frozen section in the grocery store but it is expensive.
That is convenient but truthfully it only takes about 3 minutes to make cauliflower rice and you'll get much more bang for your buck. It is so easy it is to make cauliflower rice at home
Rice is delicious but sometimes you don't want the heaviness and all of the extra carbs in your meal. Cauliflower rice will take its place and add more veggies into your meal.
Jump to:
💭 How to make cauliflower rice
Making the rice is simple — trust me on this one. This will be the basis to build on for the included stir fry recipe. Also for other recipes such as cauliflower rice pizza crust.
To rice cauliflower, all you need is:
One head of cauliflower
A food processor or a box grater (I use a food processor)
🔪 Instructions
Start by washing and drying your head of cauliflower. You'll want to remove all the greens.
You don't have to keep the it pretty since the complete head is going to be grated.
Cut the it in half and then cut out the core. You don't have to go very deep because the core cooks up nicely too.
Next, if you are using a box grater, cut the cauliflower into quarters to protect your fingers when grating.
Use the medium size holes, the ones commonly used to shred cheese, and begin "shredding" it.
If you're using a food processor, cut it into small chunks. Sizes that will fit into the tube. Use the blade attachment with the large holes up. Now let the food processor do the work — turning your cauliflower into "rice."
After you've turned your cauliflower into rice you can indulge immediately and eat it raw, or you can saute the it. In this case, we are turning it into a cauliflower rice stir fry.
To sauté cauliflower rice heat a large pan over medium heat. Add one tablespoon of olive oil and your "rice" to the pan and place a lid on top.
Cook/steam the cauliflower for five to eight minutes until it becomes tender. See below for the complete cauliflower rice stir fry instructions - from beginning to end.
👩🏻‍🍳 Stir fry instructions
Mix the stir fry sauce ingredients together and set aside.
Heat olive oil in a large pan over medium heat. Add your "rice" to the pan and stir fry for 5 minutes.
Add all of the prepared vegetables.
Pour in about ½ of the sauce and stir fry for 2 minutes letting some of the sauce cook away and thicken.
Add the rest of the sauce or as much as you'd like to add and stir fry for another three minutes to allow the larger veggie pieces to cook and for the sauce the thicken.
Serve as is or save some as a wrap stuffing or for future rice bowls but without the rice.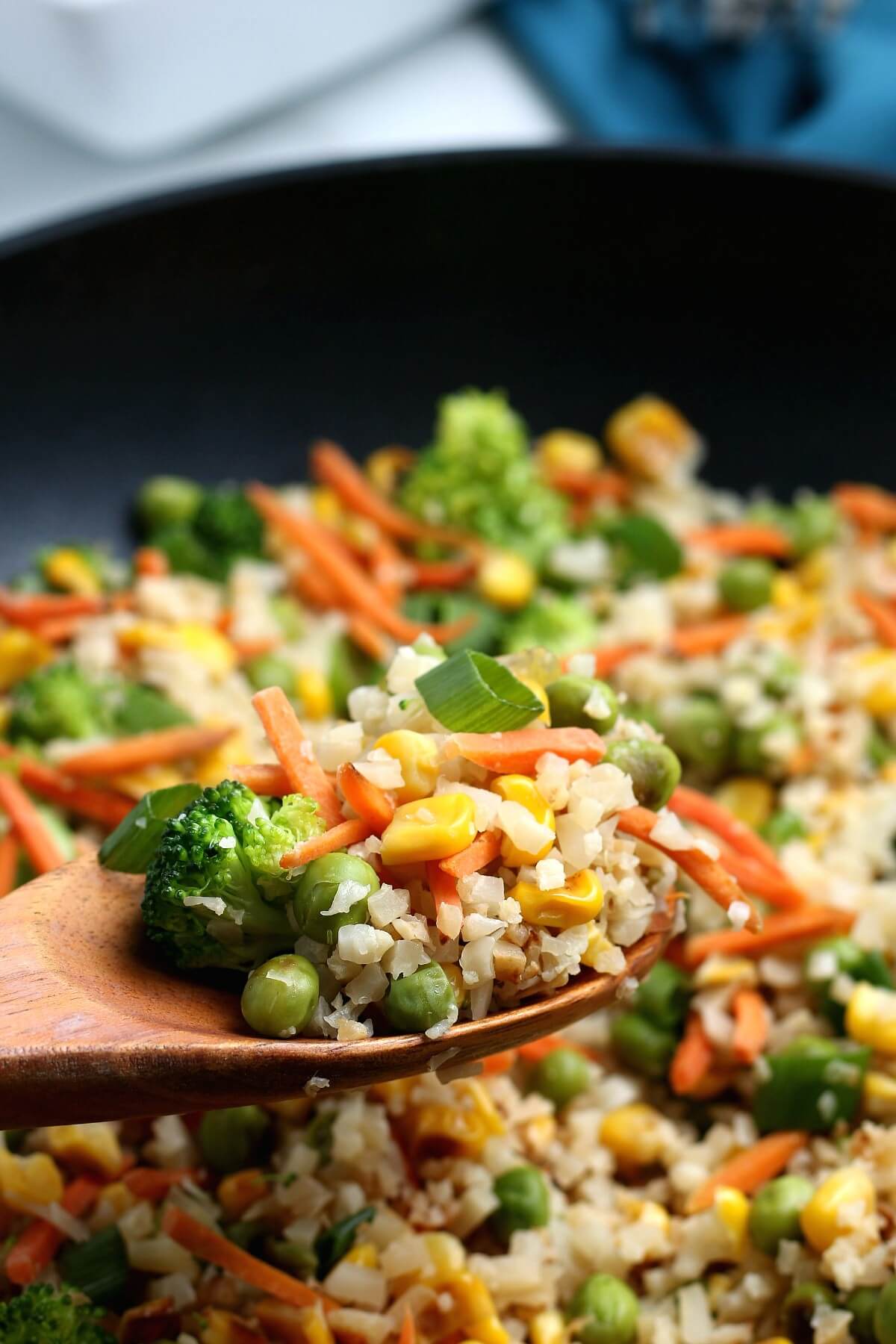 💭 FAQ's
Can you overcook cauliflower rice?
Yes, cook it al dente or it can become mushy.
Does cauliflower rice have carbs?
Yes, but it is low in carbs. It has 18 times fewer carbs than rice for the same measurement.
Can you freeze cauliflower rice uncooked?
Yes! You can put it in a ziploc freezer safe bag and press out as much asir as you can before sealing it. Flatten the bags and store in the freezer for up to 2 months.
How long will it keep in the refrigerator?
For up to 4 days. Cooked and uncooked.
💭 Health benefits of cauliflower
This beautiful white vegetable is made up of 92% water and loaded with more than 15 different vitamins and minerals including:
Antioxidants — sulforaphane, carotenoid, and flavonoid
Fiber
Potassium
Vitamins K, C, and B6
...it's one of the healthiest cruciferous vegetables — making it an ideal side to kickup your health and lower your carb intake.
Upping your cauliflower intake can not only aide in weight loss, but it can reduce inflammation and promote gut health.
Choline, which isn't found in many foods, helps support brain health and your metabolism.
So, the next time you run out of rice or go to grab some at the store, consider switching it out for a low-carb, nutrient-dense, substitute that you can find in the produce section.
Cauliflower rice not only tastes great, is ready in minutes, but it's one of the healthiest alternatives to rice.

📖 Stir fry recipes
📋 Recipe
Cauliflower Rice Stir Fry
Cauliflower Rice Stir Fry is low carb and an easy recipe to make.
Ingredients
Cauliflower Rice
4

cups

Cauliflower

- 1 head

2

tablespoons

Extra virgin olive oil
Stir fry sauce
¼

cup

Tamari

- or soy sauce

¼

cup

Vegetable broth

1

tablespoon

Cornstarch

- or arrowroot - for thickening

1 ½

teaspoons

Maple syrup

- you can use up to 1 tablespoon

2

tablespoons

Rice vinegar

1 ½

teaspoon

Ground ginger

½

teaspoon

Garlic powder

1

teaspoon

Sesame oil

- optional because of the oil that has already been used but if you use this stir fry sauce for another recipe add the sesame oil

1

tablespoon

Sriracha

- optional to add some heat
Stir Fry Veggies
1

cup

Corn

- frozen

1

cup

Broccoli florets

- cut very small so it can cook quickly

1

cup

Carrots

- cut into match sticks

1

cup

Peas

- frozen
Instructions
Cut florets from cauliflower head - small enough to fit into a food processor (or hand grate).

Chop in stages using pulse button until size resembles rice.

Mix the sauce ingredients together and set aside.

Add olive oil to a skillet over medium heat. Add cauliflower rice and cook/stir fry for 5 minutes.

Turn up the heat to medium-high. Add the vegetables and half of the sauce.

Stir fry for 2 minutes until the sauce thickens a bit and some has cooked away.

Add the rest of the sauce or as much as you'd like and cook another 3 minutes. The idea is to cook the cornstarch for a minute or so to allow for thickening.
Notes
Serving size is about 1 ¼ cups.
Nutrition
Serving:
1
Serving
Calories:
138
kcal
Carbohydrates:
18
g
Protein:
5
g
Fat:
6
g
Saturated Fat:
1
g
Sodium:
642
mg
Potassium:
466
mg
Fiber:
4
g
Sugar:
5
g
Vitamin A:
3911
IU
Vitamin C:
60
mg
Calcium:
37
mg
Iron:
1
mg