Sliced Carrot Dogs in a Blanket with Cashew Maple Spread have a rich and creamy layer inside. Strips of carrots are rolled up to complete this easy puff pastry appetizer.
Every week I want to make an appetizer for the blog. You might start to think my little house is party central so I tone myself down and pull in the reigns.
It's actually been about a month since I put those Crescent Roll Pesto Appetizers on the blog so I think we're ready for another one. Bring on the finger food!
I'm also trying to make entertaining easy for you so that is why I've added another puff pastry recipe. What could be easier than to roll and bake?
This one is a vegan frozen variety of puff pastry sheets but I've heard Pillsbury has a sheet in one of those tubes like their crescent rolls. Keep your eyes open for that because they'd work too.
The truth is finger food makes great dinners too. You know, little plates of savory food that are actually fun to eat. You don't even have to be watching a football game to enjoy them.

Have you noticed anything a little different about these vegan carrot dogs? They aren't really dogs they are more like lots of little puppies.
These little guys are carrot strips instead of one chunk of carrot. I just happen to like them better that way.
You don't need to use a mandoline as I did but cut the strips thinner than one log. They're just nicer bites that way.
There doesn't need to be any dipping with these Carrot Bundles either ... but if you are the type of person that likes that little extra condiment then, by all means, set out a little bowl of melted dairy free butter.
Tap an edge of your bundle into the rich and creamy golden liquid and pop it in your mouth.
But first, let's talk about Cashew Maple Spread!
It's a creamy spread that takes about 5 minutes to make.
Can you imagine a nice bite-size (or two) appetizer that is already complete with all the flavors you need right at your fingertips?
The spread is so delicious you can use in other recipes too. I can see spreading it on waffles.
I would love to show you a photo of the crescent roll twists I was talking about too. They are also super easy . Take a peek!
Can Crescent Rolls be used instead of Sheets for Crescent Dogs?
Yes!
They would be too big using the original crescent shape so ...
Lay out all of the triangle dough shapes and cut them in half lengthwise. Then you'll have thin triangles to add the spread to and roll around the carrot strips.
Now you have Crescent Dogs!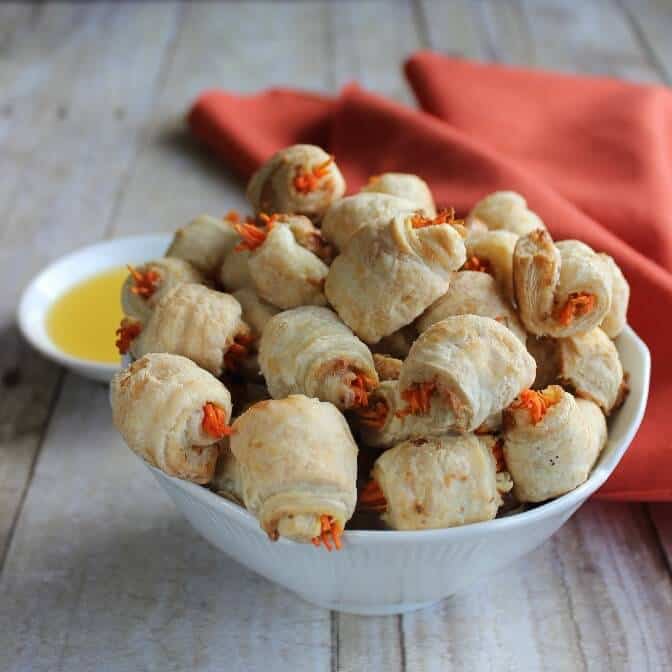 📋 Recipe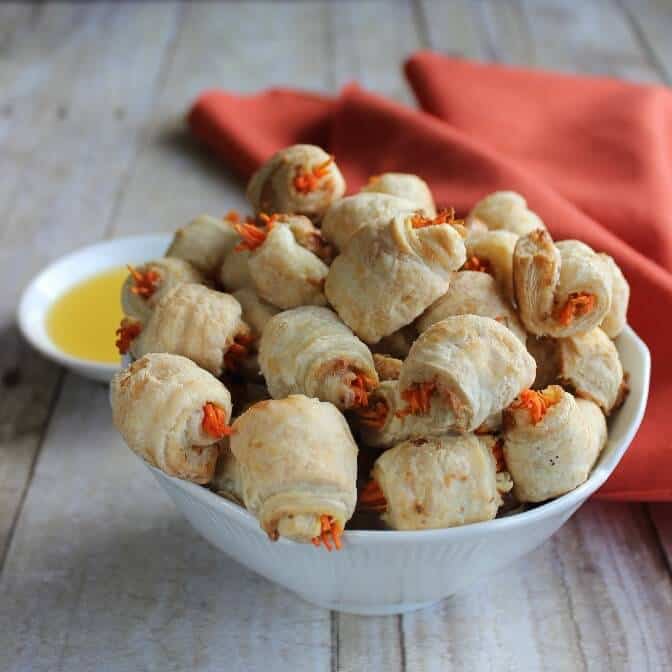 Carrot Dogs in a Blanket with Cashew Maple Spread
Carrot Dogs in a Blanket with Cashew Maple Spread have a rich and creamy layer inside.
Ingredients
For the bundles
1

puff pastry sheet, vegan package, usually 2 in a package

2

carrots
For the spread
½

cup

cashews, soak about 2 hours

¼

cup

water for the recipe

1

tablespoon

maple syrup

¼

cup

dairy-free butter, softened

½

teaspoon

salt

¼

teaspoon

black pepper
Instructions
Line a baking sheet with parchment paper.

Take out 1 sheet of the puff pastry and set on the counter to defrost for about 40 minutes. Put the other puff pastry back in the refrigerator unless you want to double this recipe.

Peel the carrots and cut in 2" lengths. Using a Japanese mandoline to cut into small strips. You can do this by hand. The strips won't be as small but they will taste just as good.
For the spread:
Drain the pre-soaked cashews and put in a food processor. Add the maple syrup, dairy-free butter, salt, and pepper.

Turn on your food processor and run about a minute. Scrap down the sides and continue doing this every 30 seconds until he spread is a smooth spreadable consistency. Set aside.

Lay out the puff pastry sheet on a lightly floured surface. Roll out just a bit to a 10" x 10" square.

Spread the cashew maple spread evenly over the whole surface.

Using a ruler and a sharp knife cut a strip every inch so that you have 10 long strips. It will not be extremely visible because of the spread but it will be good enough.

Now cut in the opposite direction every 2". You will now have 50 small strips that measure 1" x 2".

Pick up one strip and lay back on the counter. Center a small bunch of carrots with the tip sticking out on each end. Roll up and place on the parchment lined baking sheet. Do this with half the batch.

Bake at 400° for 13 minutes.

Take out of the oven and let the bundles cool on a wire rack.

Continue in the same manner with the other half of the ingredients using the same parchment-lined baking sheet.
Notes
Keep in the refrigerator and these are best enjoyed within 4 days. They will not be as good if frozen.
Serve cold or at room temperature or warmed. They're good!
Nutrition
Serving:
1
Bundle
Calories:
44
kcal
Carbohydrates:
3
g
Fat:
3
g
Sodium:
56
mg
Potassium:
20
mg
Vitamin A:
410
IU
Vitamin C:
0.2
mg
Calcium:
2
mg
Iron:
0.2
mg