Broccoli and Zucchini Fritters- Freshly steamed broccoli and grated zucchini come together with the help of flavorful onions, aromatic garlic, and sweet red bell peppers. The vegetable patties are then pan-fried to make crispy, crunchy fritters that will become your new go-to snack!
Have you ever bitten into something and wondered what in the world it was? That's exactly how I felt when I first tried a fritter. What is this strange concoction, I thought? Fritters are essentially battered and fried dough balls, most commonly made with either vegetables or fruits. They can be eaten as a snack, appetizer, or side dish. And while they may seem intimidating to make at home, they're actually quite simple. So if you're looking for a new culinary adventure, give fritters a try!
Do you like broccoli and zucchini? If you do, you'll love these fritters! They are a great way to use up some of those summer vegetables. And they're so easy to make - just mix the ingredients together, form into patties, and fry in a bit of oil. Serve them with your favorite dipping sauce, and enjoy!
Why You'll Love This Broccoli And Zucchini Fritter Recipe
Less Waste- These vegetable-packed fritters are the perfect way to use leftover broccoli and zucchini in the fridge.
A Great Snack- Crisp and crunchy fritters make the perfect healthy afternoon snack.
Crowd-Pleaser- Broccoli and zucchini fritters are so delicious your non-vegan friends will never know they are vegan-friendly.
Simple- This recipe doesn't require any special equipment or a culinary degree; you can make these crispy cakes if you can steam vegetables!
Family-Friendly- These delicious fritters are so good the whole family will love them. They won't even realize they are packed full of veggies!
Equipment Needed To Make Broccoli And Zucchini Fritters
Knife
Cutting Board
Steamer
Cheese Grater
Large Mixing Bowl
Small Mixing Bowl
Whisk
Skillet
Measuring Cups
Measuring Spoons
Ingredients For Your Vegan Broccoli And Zucchini Fritters
Broccoli
Zucchini
Tofu
All-Purpose Flour
Chickpea Egg or Flaxseed Egg
Garlic Cloves
Olive Oil
Red Onion
Nutritional Yeast
Red Bell Pepper
Salt
Ground Pepper
How To Make Broccoli And Zucchini Fritters
To begin, be sure that all of your supplies are out and ready to use. Onions, peppers, and garlic should all be finely chopped and sautéed until soft before being combined in a large mixing bowl. Steam chopped broccoli until fork-tender. When the broccoli is cooked, slightly mash it.
In a separate bowl, mash the tofu, then combine it with the vegetable mixture. Prepare the chickpea egg, season with salt, pepper, and nutritional yeast, and then add it to the big mixing bowl. Finally, fold in the flour until a smooth paste is formed. Heat a skillet and drizzle with olive oil. While the oil is heating up, use your hands to create patties and cook them until golden brown.
What to Serve/Pair with Vegetable Fritters
Zucchini and broccoli fritters are delicious in so many ways, making them ideal for pairing with various sauces for different occasions. They make the perfect hors d'oeuvres to serve at a party, a great crunchy snack, a light lunch, or a side dish for dinner. Popular dipping sauces for fritters are
Ketchup
Tzatziki Sauce
Sriracha Aioli
Dill Dip
Garlic Aioli
Roasted Red Pepper Sauce
Tomato Basil Sauce
If you're looking for something different to serve with your crispy cakes, try one of these delicious sauces:
Creamy Dill Sauce
Romesco Sauce
Béchamel sauce
Or, if you're in the mood for something sweet, try serving them with this delicious Honey Mustard Dipping Sauce. No matter how you choose to enjoy them, these vegetable fritters are sure to be a hit!
Popular Substitutions & Additions
Cheese- Grated cheese can be added to the mixture for a richer flavor and firmer texture.
Herbs- Fresh herbs, such as parsley, basil, or thyme, add unique flavor to these fritters.
Vegetables- Other vegetables, such as grated carrots or spinach, can easily be substituted into this recipe.
How To Reheat & Store Fritters Made With Zucchini And Broccoli
What Is The Best Way To Store Broccoli And Zucchini Fritters?
Broccoli and zucchini fritters are best stored in an airtight container in the refrigerator.
How Long Will Fritters In the Fridge?
Fritters stored correctly in an airtight container will last up to 5 days in the refrigerator.
Can I Freeze Zucchini And Broccoli Fritters?
Yes. Zucchini and broccoli fritters can be frozen for up to 2 months. To freeze, place them in a freezer-safe container and cover them with plastic wrap or foil before freezing. When ready to eat them, remove patties from the freezer and let them thaw in the fridge overnight. Reheat in the microwave, air fryer, or stovetop.
How To Reheat Vegetable Fritters?
There are a few different methods to choose from when it comes to reheating broccoli and zucchini fritters. Heating them in the same way you cooked them is your first choice. Second, fritters may be microwaved for approximately 30 seconds. Finally, if you have an air fryer, you can cook them for about 4 minutes at 350 degrees Fahrenheit.
Broccoli And Zucchini Fritter FAQs
Is this recipe for broccoli and zucchini fritters gluten-free?
No, as written, it is not gluten-free. However, it is very easy to make gluten-free! Replace all-purpose flour with gluten-free flour, and the dish will be completely gluten-free.
Why are my fritters soggy?
If your fritters are soggy, it is likely because you didn't squeeze the moisture out of the zucchini and broccoli mixture well enough. Be sure to really squeeze the vegetables to remove as much water as possible before frying.
Can I make these broccoli and zucchini fritters ahead of time?
Yes! You can make these ahead of time by preparing the fritter mixture and storing it in the refrigerator overnight. When you're ready to cook them, just pan-fry them until they're golden brown and crispy.
Can I add cheese to these vegetable fritters?
Yes. Grated cheese of your choice can be added to the mixture for a richer flavor and firmer texture.
Do I need to add olive oil to the skillet between each batch of fritters?
No, you do not need to add olive oil between each batch of fritters. However, if the skillet becomes dry while cooking the fritter patties, you can add a small amount of oil to prevent them from sticking.
Other Veggie Appetizers You'll Love
Homemade Air Fryer Onion Rings
Don't Forget To Come Back And Let Me Know How Your Broccoli And Zucchini Fritters Turned Out!
📋 Recipe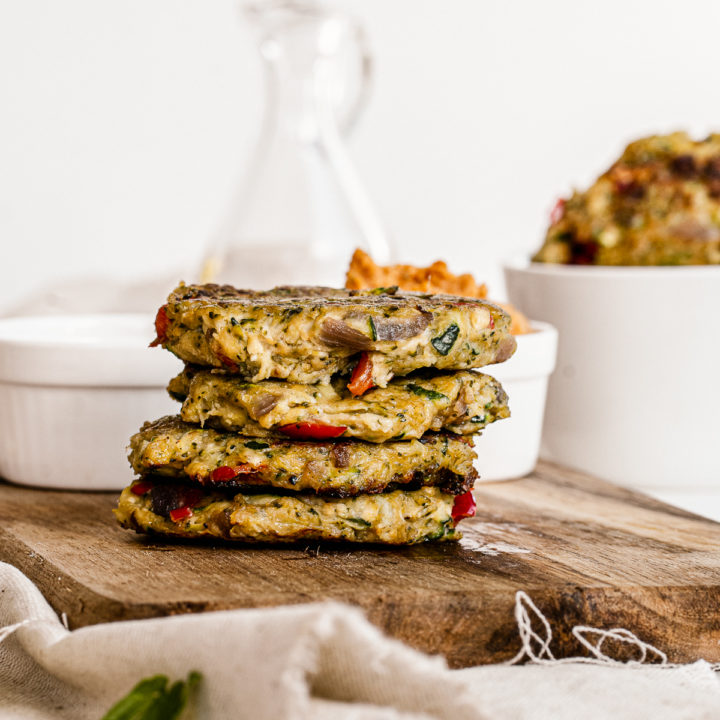 Broccoli and Zucchini Fritters
Steamed broccoli and grated zucchini come together with flavorful onions, aromatic garlic, and red bell peppers are pan-fried to make delicious crispy fritters.
Ingredients
1

head of broccoli

2

cups

shredded zucchini

1

cup

tofu

1

cup

all-purpose flour

(use gluten-free if needed)

2

chickpea egg

(flaxseed egg works the same)

2

garlic cloves

1

tbsp

olive oil

½

red onion

2

tbsp

nutritional yeast

½

red bell pepper

½

tsp

salt

ground pepper

to taste
Instructions
Chop the broccoli head into florets. Cook broccoli in a steamer until is fork-tender. After that, slightly mash it.

Chop onion, red bell pepper and garlic in small pieces. Sauté them until onion is translucent and pepper is tender.

In a big bowl, add mashed broccoli, sauté veggies and shredded zucchini. Stir to combine.

In a different bowl mashed tofu until a ricotta cheese consistency, use a stick blender if necessary. Add mashed tofu to the big bowl.

Prepare the chickpea egg by whisking 2 tbsp of chickpea flour with 4 tbsp of water. Add salt, ground pepper and nutritional yeast. Add the chickpea egg to the big bowl and stir to combine.

Finally, add flour and stir again to get a smooth paste.

Using your hands, form the fritters.

Heat a skillet and drizzle a tbsp of olive oil. Cook fritters on medium heat until golden brown

Keep left-overs in the fridge in an airtight container for up to 5 days.
Nutrition
Calories:
438
kcal
Carbohydrates:
79
g
Protein:
24
g
Fat:
5
g
Saturated Fat:
1
g
Polyunsaturated Fat:
1
g
Monounsaturated Fat:
3
g
Sodium:
353
mg
Potassium:
935
mg
Fiber:
11
g
Sugar:
12
g
Vitamin A:
1649
IU
Vitamin C:
187
mg
Calcium:
206
mg
Iron:
6
mg