Boneless BBQ Buffalo Wings are plant based and made with a ground tofu mixture. Don't miss this one! The sauce has a mild underlying sweetness that just breaks through the spicy heat. Then you get a flavorful chewy bite that makes it hard to resist.
I can always depend on Linda and Alex Meyer to come up with some of the best vegan recipes that I've ever made. Luckily, this time they've combined 75 of them in a colorful new cookbook titled Great Vegan BBQ Without a Grill.
It covers any recipe you'd like to make for the grilling season. The fun thing is that you don't need an actual grill for any of it.
The food encompasses all of the food we can remember while enjoying outdoor get-togethers, sports games or any excuse we could find to get outdoors in the nice weather to barbecue.
In this cookbook there are a variety of BBQ sauces to enhance dishes from plant based ribs to burgers and sandwiches to kabobs. Some recipes can be done on the grill too. Some can be wrapped in foil or made in a grill pan. There are so many options.
Many sides and salads are perfect grilling accompaniments too and they are also included inside. But wait, let me tell you about this recipe, Boneless BBQ Buffalo Wings. Spicy tofu as a great appetizer.
How to Shape Boneless BBQ Buffalo Wings
First of all, I was intrigued to see this recipe using tofu instead of cauliflower. Then I saw that it wasn't just marinated cubes or shapes. It's pulsed in a food processor and mixed with a variety of delicious ingredients.
The result is a wonderful spicy tofu mix that you can handle very easily with your hands and mold into shapes. Naturally, for this recipe it is, sort of, formed like chicken wings since the recipe is modeled after classic Buffalo Wings.
I say, sort of, because I did my best. Now, don't laugh at me (or do, lol) but I actually had to look up images on the internet to see what BBQ Buffalo Wings really looked like.
I realized that Linda and Alex did a very nice job and they are fatter on one side than the other. So I mimicked the recipe creators and the mixture was very easy to handle. Not sticky, just moldable.
One shape or the other they taste fantastic with a spicy chipotle BBQ sauce. I fought with myself and one of me lost and had eaten two before I started to take the photos. They are really hard to resist.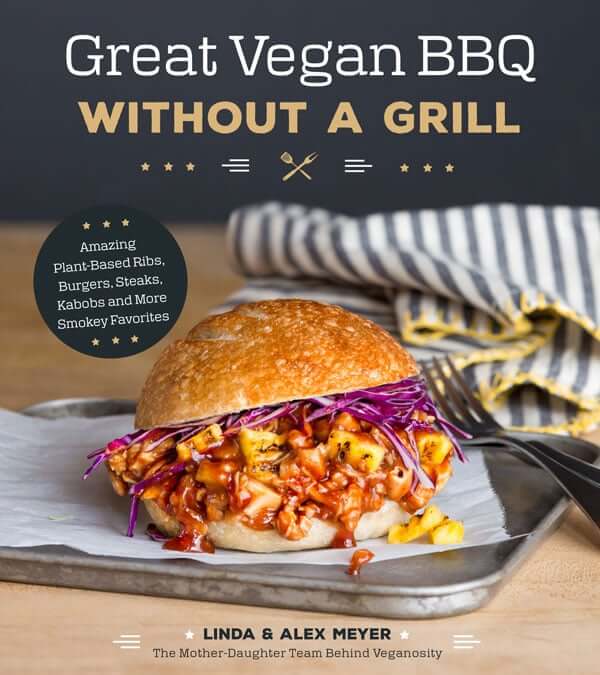 Above is a photo of the Great Vegan BBQ Without a Grill cookbook and if you click on the picture it will take you to Linda and Alex's blog Veganosity.
They have links that you can click on and you'll be able to purchase this must-have book. I forgot to tell you that there's a full page color photo with each recipe. 75 to be exact.
Even if you think you have enough cookbooks - you don't have enough cookbooks. You have to have this one as it is unique and full of wonderful recipes. There are even some great looking seitan recipes that I am very excited to try.
Let me share with you a Vegan BBQ Chicken Sandwich that I have on my blog. It takes advantage of pre-made plant based chicken tenders and has a homemade sauce that I think you'll really enjoy. Now to some other sauces ...
Three Sauces Used for Boneless BBQ Buffalo Wings
There is a BBQ sauce used inside for the spicy tofu nuggets. I went ahead and bought a chipotle BBQ sauce instead of making one from scratch. The instructions said this would be alright to do.
The coating is a red hot sauce that I just couldn't pass up making. Smoky, Buttery Buffalo Sauce is a winning sauce.
I made a very simple sauce for dipping but still wanted it to be a bit spicy. A no brainer with dairy free mayo and a bit of dairy free chipotle mayo to give it some color and kick. I have no measurements as I just tasted as I mixed the two ingredients.
What are the Chapters for Great Vegan BBQ Without a Grill?
Meat-Free BBQ to Satisfy Meat Eaters
Burgers and Sandwiches: From Way Up North to The Deep South
Stick Food: Because Eating Food Off A Stick Is Fun!
Stuffed, Foiled and Smothered: Delectable Entrees for a Cozy Dinner
Sides and Salads that Go With A Barbecue
BBQ Dips to Bring to the Party
Keeping It Saucy: BBQ Sauces and Rubs
As you can see there is a lot to get excited about. So let's get started!
📋 Recipe
Boneless BBQ Buffalo Wings
Boneless BBQ Buffalo Wings are plant based and made with a ground tofu mixture. Don't miss this one!
Ingredients
2

tablespoons (14 g)

ground flax seed

¼

cup (60 ml)

water

10

ounces (283 g)

extra firm tofu, drained

1 ¼

cups (156 g)

breadcrumbs

½

cup (120 ml)

Have-It-Your-Way Chipotle BBQ Sauce included in the cookbook or store bought

1

tablespoon (15 g)

Bragg's Sprinkle Seasoning

½

teaspoon

salt

1

cup (240 ml)

Smoky, Buttery Buffalo Sauce - recipe below
For the Smoky, Buttery Buffalo Sauce
½

cup (120 ml)

melted vegan butter

- we use Miyoko's or Earth Balance

½

cup (120 ml)

red hot sauce

2

teaspoons (10 ml)

vegan Worcestershire sauce

- we use Annie's

2

tablespoons (30 ml)

white wine vinegar

½

teaspoon

ground white pepper

¼

teaspoon

liquid smoke

¼

teaspoon

ground sea salt
Instructions
Preheat the oven to 350℉ (176℃).

Mix the ground flax and water in a small bowl and let it set for 10 minutes.

In a food processor, pulse the tofu, flax seed mixture, breadcrumbs, BBQ sauce,Sprinkle Seasoning and salt until a uniform blend is created.

Line a baking sheet with parchment paper. Form the tofu mixture into about twenty 2-inch (4-cm) wing/nugget shapes and place them on the baking sheet. Bake them for 30 minutes. Take them out of the oven, toss the wings in the buffalo sauce and serve hot.
For the Smoky, Buttery Buffalo Sauce
In a medium bowl or a mason jar, combine the butter, hot sauce, Worcestershire sauce, vinegar, white pepper, liquid smoke and salt. Whisk until uniformly combined. Use immediately, or store in the fridge in an airtight container for up to a week. Melt in a small pan over low heat before serving.
Nutrition
Serving:
2
Wings
Calories:
159
kcal
Carbohydrates:
10
g
Protein:
3
g
Fat:
8
g
Saturated Fat:
1
g
Sodium:
410
mg
Potassium:
102
mg
Fiber:
1
g
Sugar:
3
g
Vitamin A:
40
IU
Vitamin C:
0.7
mg
Calcium:
52
mg
Iron:
1.4
mg