Slow Cooker Black Eyed Peas are easy from a slow cooker! They're a tradition to have on New Year´s day too.  You will have a lucky day for every bean that you eat. Really!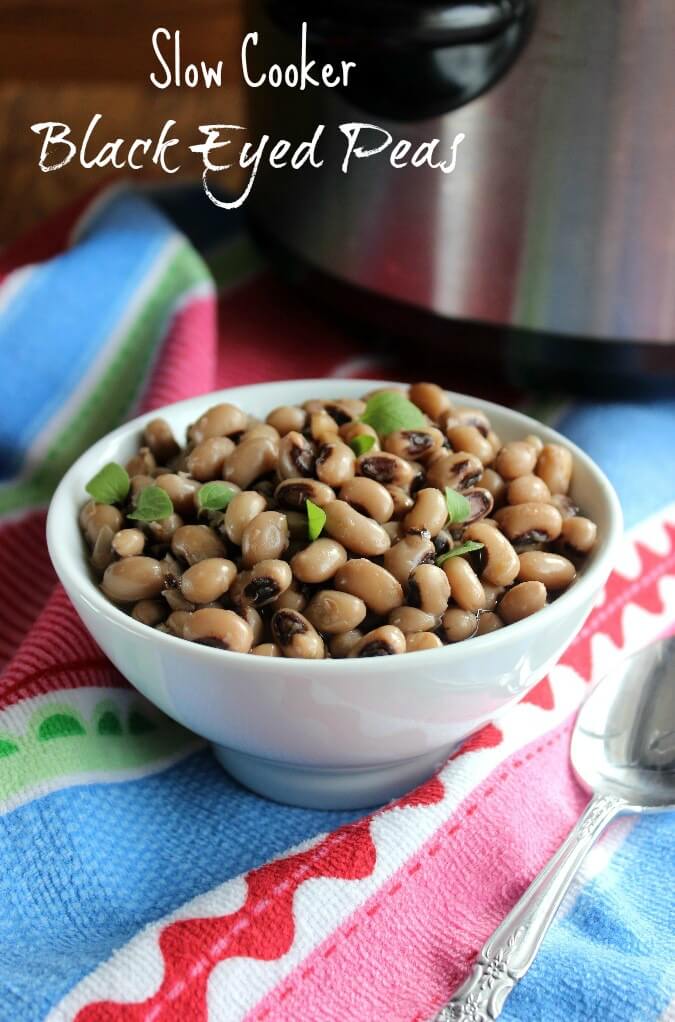 Good luck abounds with Slow Cooker Black Eyed Peas and the way I have heard the tradition is that for every bean you eat you will have good luck for a day. Luckily they are small beans so you can eat a lot.
I have made a vegan version and it has all the flavors of the original. Very simple to make especially when it is made in a crockpot.
The leftovers are as good as they are on the first day.  That helps if you are serving these on a holiday and your family likes to eat early.  That was our family's tradition.
Eat it on New Year's Day while watching football. Fun!
From the firs of the year on though the months Slow Cooker Black Eyed Peas is a delicious recipe that adds a nice change to the usual.
Bonus:  Over the years I've discovered a sauce that you can dollop on black eyed peas and it almost makes it another meal.  It is Caribbean Bean Sauce.  Not made from beans but made for beans.
I just needed to tell you about it so you don't miss out on this in your life time. The sauce is made with roasted red bell peppers and it is great on bean burgers too.
Below is a photo that doesn't really show preparation of black-eyed peas.  It shows their beauty after draining.  Also, you can probably tell I am using a vintage colander.
It was my mother's and I grew up watching mother use it – a lot.  It is mine now and I cherish it.  Even with it's dent.
So pull out your slow cooker, blackeyes, a few veggies and spices.  You'll have a comfort food for the whole family in no time.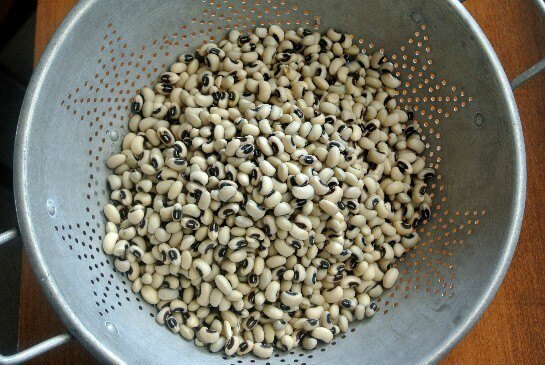 Connect with Vegan in the Freezer
Facebook | Pinterest | Instagram | Bloglovin
Slow Cooker Black Eyed Peas
Slow Cooker Black Eyed Peas are easy from a slow cooker!
Total Time
6
hours
15
minutes
Ingredients
1

pound

bag dried black eyed peas

About 2 cups water and 2 cups vegetable broth.

1

small onion, diced

1

clove

garlic, finely diced

1

bay leaf

1/8

teaspoon

thyme

1

teaspoon

ground sage

1

teaspoon

sea salt

1/2

teaspoon

pepper
Instructions
The night before cooking:

Put the black eyed peas in a large bowl and cover with water to clean.

Swish your hand around in the water and pick out any beans that don't look good or that float.

Drain the beans.

Put the beans in a very large pot or bowl.

Cover with fresh water by about 4 inches above the beans.

Let soak on the counter overnight.

They will plump up.

The morning of cooking.

Drain the presoaked black eyed peas and put them in the slow cooker.

Add the onion, garlic and spices to the crock pot.

Add the 2 cups of vegetable broth.

Add enough water to just cover the beans.

Turn on low for about 6 to 8 hours.

They can also be cooked on high for 3 to 4 hours. Give a bean a pinch at the end of cooking to make sure they are the softness that you like. Or ... have a spoonful. HA!

Ready to serve.
Recipe Notes
IF FREEZING:
Let cool to room temperature.
Package in rigid sided containers as defined in my article How to Prepare Food for the Freezer
TO PREPARE AFTER FREEZING:
Remove from the freezer and put in the refrigerator overnight because it is a pretty solid mass and will take longer to defrost.
The night of serving -
Put all in a large saucepan and heat through. You could also heat in the microwave.
Serve and enjoy!
Nutrition Facts
Slow Cooker Black Eyed Peas
Amount Per Serving (12 Ounce)
Calories 262
% Daily Value*
Sodium 400mg 17%
Potassium 867mg 25%
Total Carbohydrates 47g 16%
Protein 18g 36%
* Percent Daily Values are based on a 2000 calorie diet.