Slow Cooker Black Eyed Peas are easy from a slow cooker! They're a tradition to have on New Year´s day too. You will have a lucky day for every bean that you eat. Really!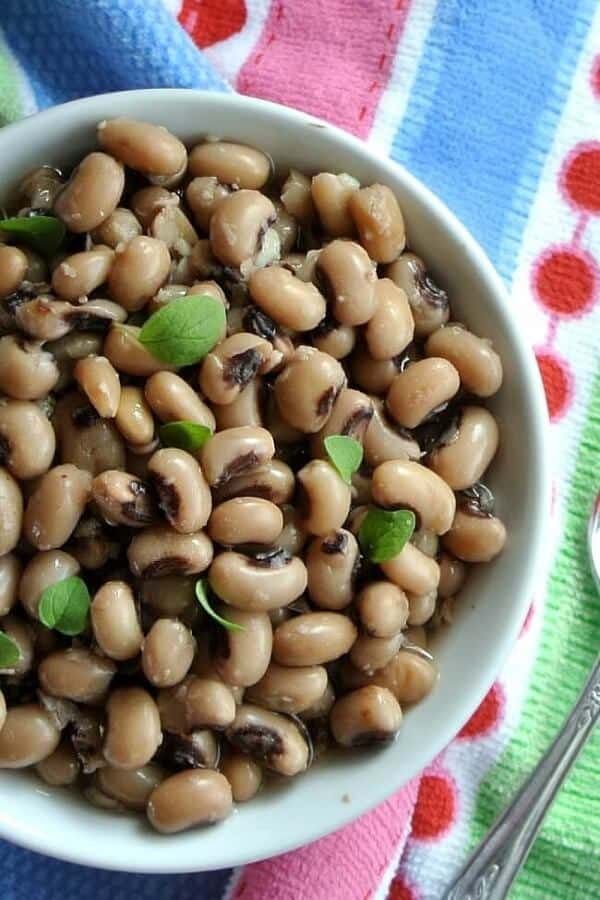 Good luck abounds with Slow Cooker Black Eyed Peas and the way I have heard the tradition is that for every bean you eat you will have good luck for a day. Luckily they are small beans so you can eat a lot.
I have made a vegan version and it has all the flavors of the original. Very simple to make especially when it is made in a crockpot.
The leftovers are as good as they are on the first day.  That helps if you are serving these on a holiday and your family likes to eat early. That was our family's tradition.
Eat it on New Year's Day while watching football. Fun!
Take a peek at all of the different styles of photos that I have for these black-eyed peas. You can tell we really like them as I've taken quite a few photos of them at different serving times.
Even different houses. I know you can't tell that some of the photos are in different houses but I don't have that buffet under the green cloth anymore.
Kind of wish I did but then it would have to be outside since we downsized by 1000 sq. ft.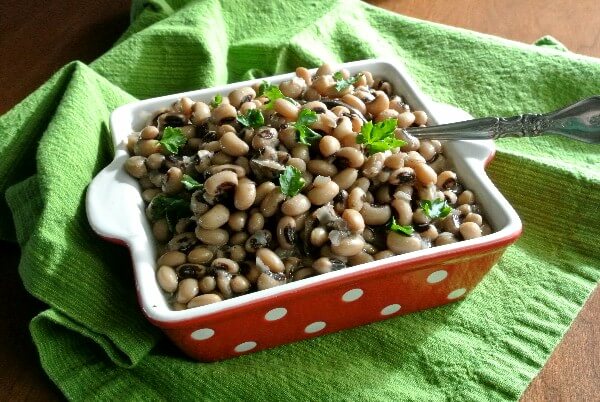 Are Black Eyed Peas Beans?
They are in the cowpea family which are both legumes and beans. Is that strange or what?
The word peas is in their title but they are actually called beans.
No matter what they're called they are a magical bean that is not like any other and is extremely delicious.
From the first of the year on through the months Slow Cooker Black-Eyed Peas is a delicious recipe that adds a nice change to the usual.
Bonus:  Over the years I've discovered a sauce that you can dollop on black-eyed peas and it almost makes it another meal.
It is Caribbean Bean Sauce. Not made from beans but made FOR beans. Here's a picture and it is such a delicious condiment.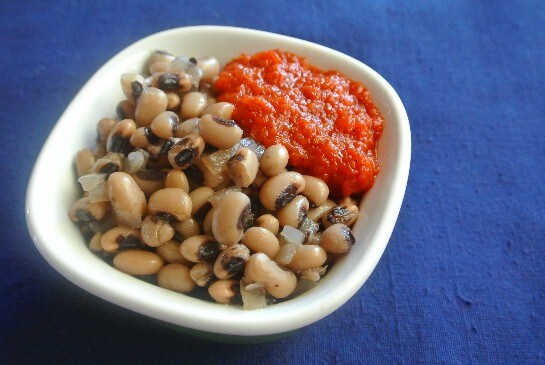 I just needed to tell you about it so you don't miss out on this in your lifetime. The sauce is made with roasted red bell peppers and it is great on bean burgers too.
I'd love to give you some special hints and tips for making these black-eyed peas from the slow cooker. but they are just too easy.
I do dice the onions very small so that the small beans aren't overpowered by a large chunk of onion.
Do you have a programmable crockpot yet? I don't but this is the one I have my eye on. It would make life a whole lot easier if you could program it an hour or more after you've left the house
Some things, especially desserts, don't need more than a very few hours. This model even has a clamp lid for traveling.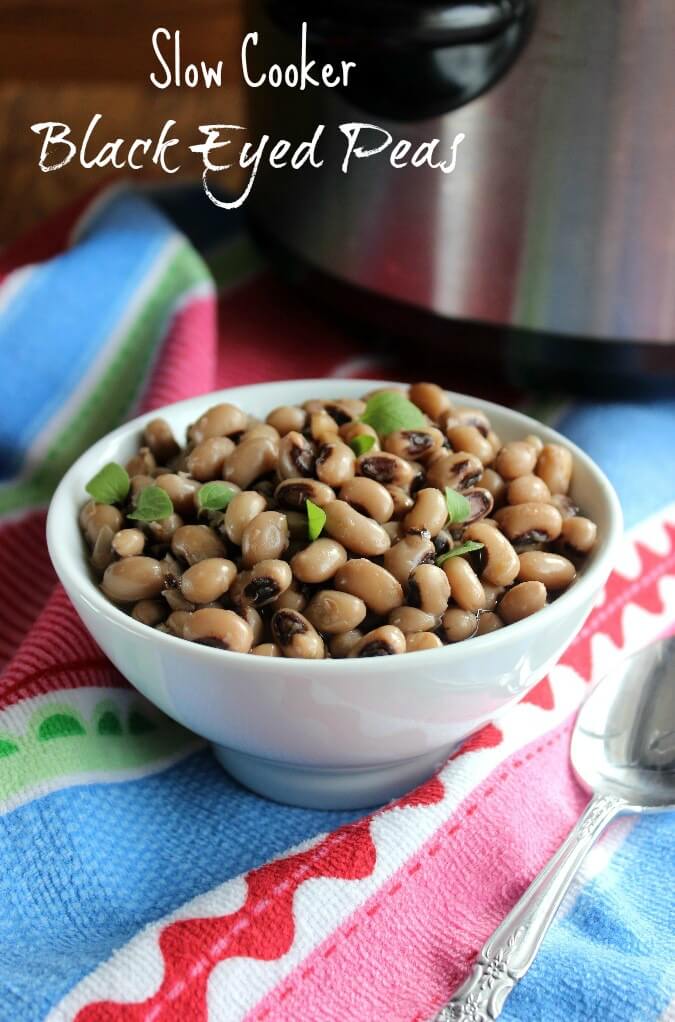 Can You Freeze Slow Cooker Black Eyed Peas?
Yes, perfectly!

IF FREEZING:

Let cool to room temperature.
Package in rigid sided containers as defined in my article How to Prepare Food for the Freezer

TO PREPARE AFTER FREEZING:

Remove from the freezer and put in the refrigerator overnight because it is a pretty solid mass and will take longer to defrost.
THE NIGHT OF SERVING:
Put all in a large saucepan and heat through. You could also heat in the microwave.
Below is a photo that doesn't really show the preparation of black-eyed peas. It shows their beauty after draining. Also, you can probably tell I am using a vintage colander.
It was my mother's and I grew up watching mother use it – a lot. It is mine now and I cherish it. Even though it has a dent on its underside.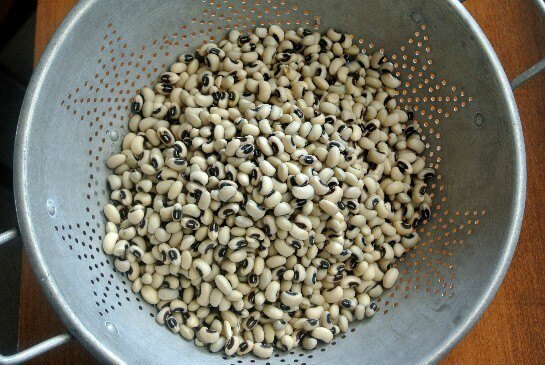 So pull out your slow cooker, black-eyed peas, a few veggies, and spices. You'll have comfort food for the whole family in no time.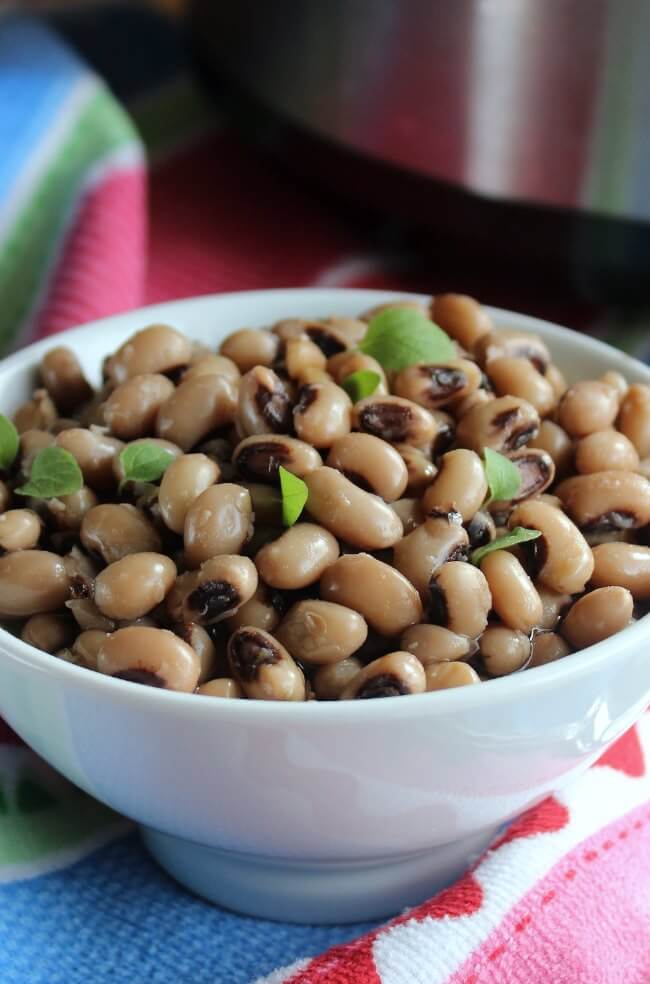 This post contains affiliate links. Read my disclosure policy here.