Cookie Butter Ice Cream is a creamy and delicious frozen treat that is easy to make and has a sweet, endearing flavor of Biscoff Cookies. With only three simple ingredients, this dessert can easily be yours to scoop up!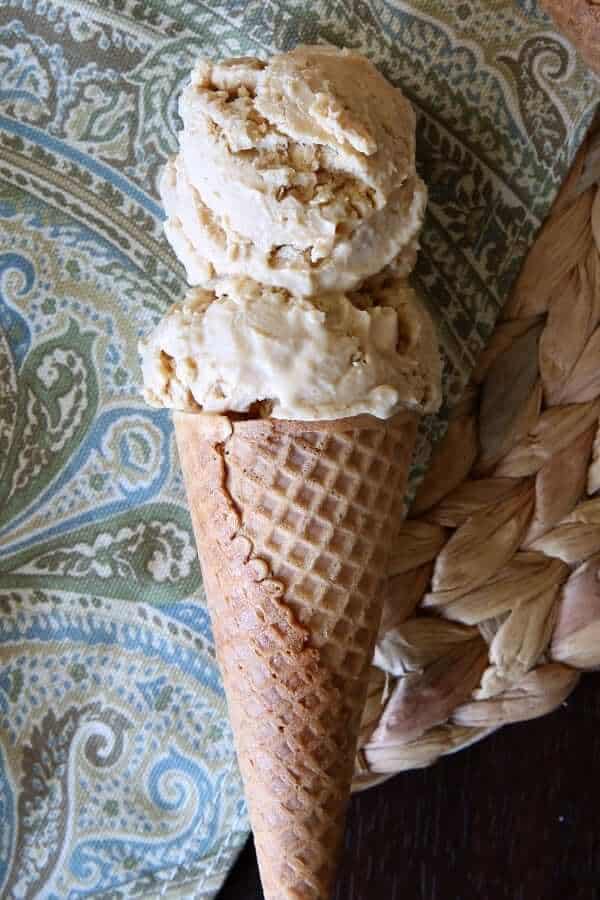 Biscoff Cookie Butter
Does anyone still remember those delectable caramelized Biscoff Cookies that they served on airplanes? You know, in the good old days.
Maybe some of you have escaped hearing about Biscoff. I doubt it, though. You can run into them sometimes in retail stores and, of course, online.
These cute little baked delights are made in a small town in Belgium and are best known in Europe as Lotus Speculoos. They still make them the same way as they did when the first bakery opened in 1932. How cool is that?
But I think one of their most brilliant inventions is their Biscoff Cookie Butter. Lucky for us, we have been able to enjoy this irresistible cookie spread for years now, since it came to America in 2011.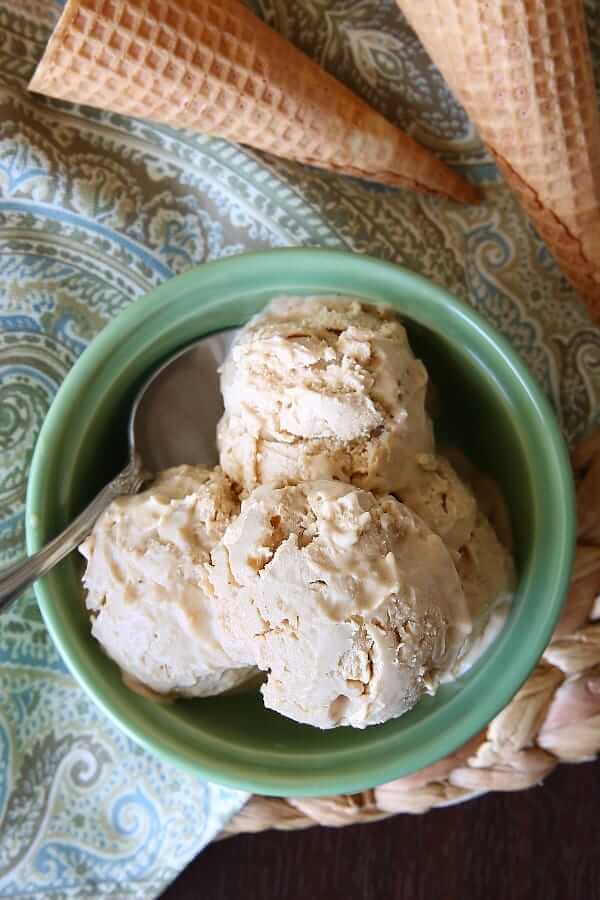 Even Trader's Joe offers its own version of a spreadable Speculoos Cookies Butter, but it is a bit crunchier in texture than the original one. Still very good though!
These finger-licking spreads are a great topping for just about anything.
Toast
Pancakes and waffles
Baked goods and on most kid's treats, of course
Even sandwiches, kind of the equivalent of peanut butter
Well, some eat it with a spoon straight out of a jar.
But this spread is terrific for making creamy and smooth ice cream.
Cookie Butter Ice Cream
This frozen treat is not only ready in about 20 minutes, but the result is a most delicious tasting ice cream. The smell is incredible with almost a touch of warm gingerbread cookies.
It has a rich caramel flavor with hints of cinnamon and spice. For some, it might remind them of a cross between graham crackers and a healthier version of a snickerdoodle ice cream.
Use full-fat coconut cream in a can. Sometimes it says coconut milk but it's the can one that is usually between 17% to 22% fat.
Check out the picture below. This is how I dumped it straight from the can. You can see the thick clumps breaking away in it's liquid.
Add the three ingredients to a blender and run until everything is well combined. It just takes. seconds.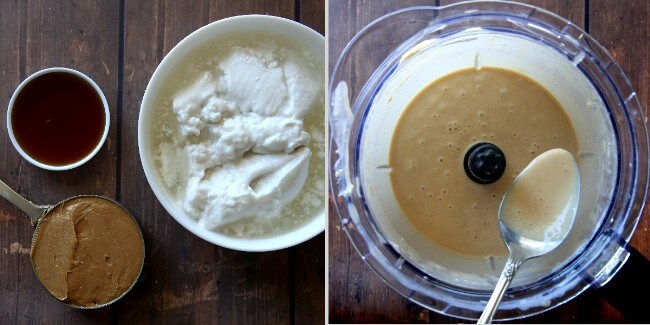 Have your ice bucket pre-chilled according to your makers' directions. Mine is a Cuisinart and says to have it in the freezer for 18 hours before making your cookie butter ice cream.
You can make it without an ice cream maker it just won't be as creamy and you'll have to wait until it gets frozen before you can eat it.
With an ice cream maker you can eat ice cream immediately as soft serve as seen in the photo below or freeze it until it's solid.
You can use the Biscoff spread for a super creamy texture, or the Trader's Joe version to add a bit of crunch to it. Both will taste great — sort of like choosing between a creamy or crunchy peanut butter.
It is also not too sweet of a treat, but just right with the mild spice of the Biscoff cookie taste spread throughout the ice cream.
Favorite Ways to Serve Biscoff Cookie Butter Ice Cream
Of course, in most cases, you are just going to add some scoops in a bowl and immediately want to dig in. Because this stuff is good, just as-is.
But I love this dessert because you can easily make it very special and fancy it up, especially if you have guests over or want to celebrate a special moment. Here are a couple of ideas: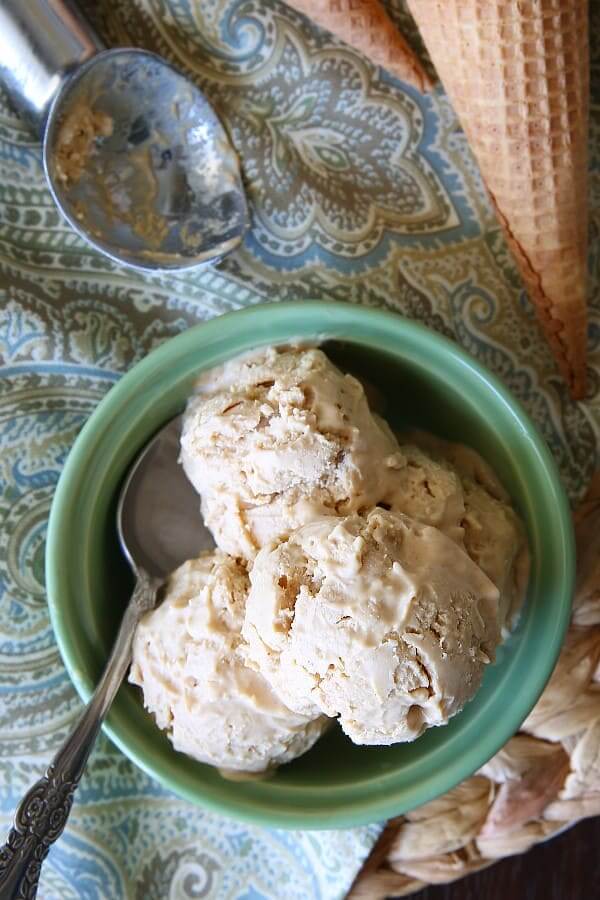 Serve with an extra Biscoff cookie in the middle and a cinnamon stick. Make sure you have extra ice cream because your guests are going to ask for seconds.
Serve on your favorite waffle cones with chocolate sprinkles on top—great for kids birthday parties or casual outdoor entertaining.
Make it a late night special treat to unwind and pair it with a shot of my homemade Kahlua on the side. So worth it!
I'll bet you will come up with your own favorite serving suggestions. And if you do, please don't forget to share them with me!
FAQ's and Pro Tips
Can nut butters be used? Yes! Peanut Butter Ice Cream would be delicious. Since Biscoff and Speculoos Cookies Butter is sweetened a bit you should add an extra tablespoon of maple syrup to nut butters.
Can you add nuts or chocolate chips? No problem at all. Just scoop in about ¼ cup of your favorite addition straight into the mixture in the ice maker. Not the blender.
So that brings me to my recipe of the day, Biscoff Cookie Ice Cream. Pass the scoop!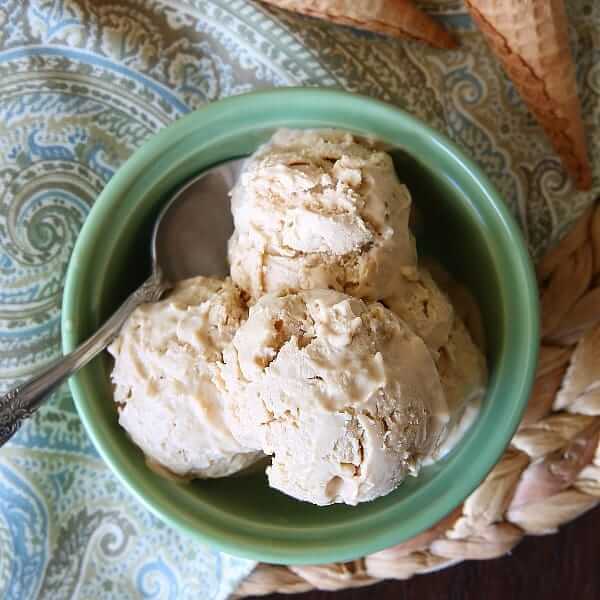 This post contains affiliate links. Read my disclosure policy here.
What Do You Think?
If you take a photo of your bowl of perfect tasting ice cream I would love to see it. Follow me over on Instagram and tag me on your photo @vegan_in_the_freezer.
And if you'd like to leave a star rating along with a comment, it would really be appreciated.
📋 Recipe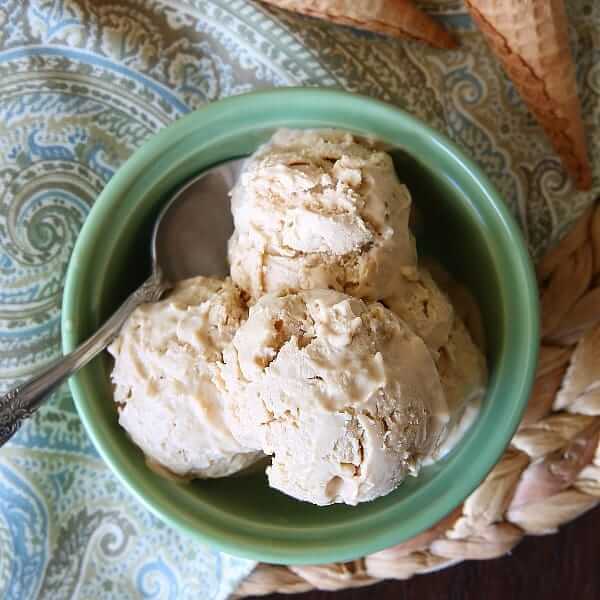 Cookie Butter Ice Cream
Biscoff Ice Cream is easy to make with a sweet endearing flavor.
Ingredients
15

ounces

coconut milk, 1 can, it may be a little over or under 15 ounces, usually about 17% to 22% fat

2

tablespoons

maple syrup

½

cup

Biscoff cookie butter spread
Instructions
Make sure your Ice Cream Maker bowl has been in the freezer for about 18 hours.

Take the ice maker bowl out of the freezer and put it in your ice cream maker.

In a blender, mix the coconut milk, Biscoff spread and maple syrup together.

Pour the mixture into your ice cream maker.

Turn on your ice cream maker and let run for 15 to 20 minutes. All done!

Eat soft serve, as is, or place in a freezer container to harden for scoops later.
Notes
This makes 21 ounces ice cream and a serving is 7 ounces.
Nutrition
Serving:
7
ounces
Calories:
78
kcal
Carbohydrates:
4
g
Fat:
6
g
Saturated Fat:
4
g
Sodium:
2
mg
Potassium:
48
mg
Sugar:
3
g
Vitamin C:
0.2
mg
Calcium:
6
mg
Iron:
0.7
mg