Vegan BBQ Chicken Sandwich is a fabulous plant-based sandwich that has a tangy homemade barbeque sauce. Easy to make with flavors you can't forget so go ahead and enjoy.
Vegan BBQ Chicken Sandwich is a name that brings back happy memories for many. I think all of us started eating barbecue sandwiches when we a were very very young.
Many restaurants were based around the tangy rich sweet red sauce. Not much more was on the menu besides corn and beans. Well, here's a sandwich I bet you never saw on the menu.
Plant-based chicken along with sautéd onions and bell peppers make this sandwich unique and delicious.
All you have to do is chop and measure a few ingredients, heat up the mix in a skillet, pile it high on a bun and you will have one of the best sandwiches out there.
Sandwiches are sort of king in our house. You can go in any direction you want with a myriad of ingredients and another favorite that you might want to try is Loaded Chickpea Salad Sandwich.
So different and yet so good.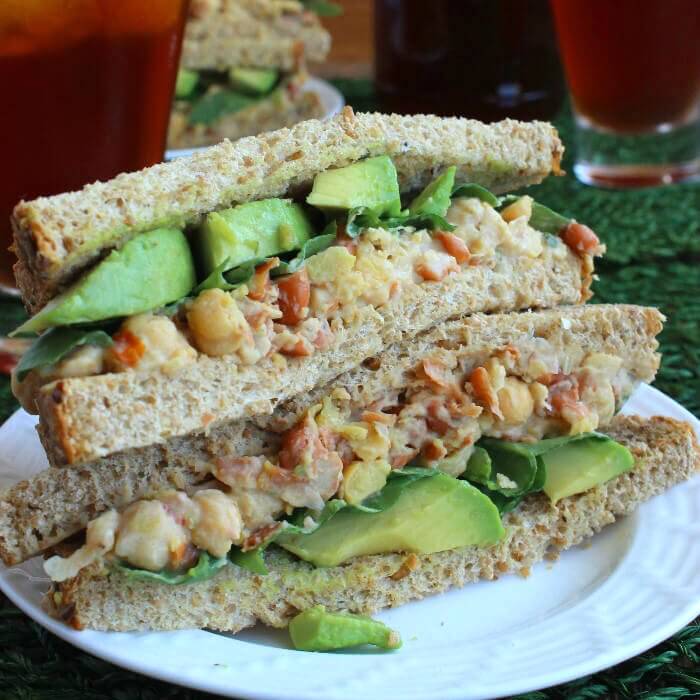 Fun Historical Facts
I don't think that barbecue sauce was bottled and offered until the 1940's. That's when the barbecue joints started popping up. They offered the casual and fun atmosphere just as pizza parlors do.
I wasn't around is the 40's but I do remember restaurants with wooden tables, sometimes in the shape of picnic tables heavy with the angle for barn decor.
For sure there was more than one restaurant having sawdust on the floor. It was an atmosphere of fun. There's got to be a country song in there somewhere.
This post contains affiliate links. Read my disclosure policy here.
Homemade Barbecue Sauce
There are many homemade barbecue sauce recipes out there. I think there are recipes that families cherish and restaurants that guard the recipe as if it was gold. Others are shared and some aren't.
Well, I'm a sharer and you have got to make this homemade barbecue sauce. I bet you have all of the ingredients already in your pantry and you won't be sorry you got out the measuring spoons.
Follow this recipe to the tee and you will get the sweet and tangy sauce that we all love. A little of this and a little of that and you have a great meal.

Try this vegan barbecue chicken sandwich recipe for your next casual lunch or dinner and you will receive some very nice compliments.
It's really nice to be able to take advantage of pre-made plant-based chickenless tenders for this sandwich.
You sure can thinly slice seitan and add that to the sauce but sometimes we just don't have the time to make homemade seitan.
I usually make largish batches of seitan and have it in the freezer but not his time. This month it's 'empty out the freezer' time and my seitan is already gone.
We are so lucky to have more and more vegan products in the grocery stores now.
I think the ones I probably used were Gardein crispy tenders because I like to use ready-made products that take advantage of vital wheat gluten.
It's a great way to take advantage of high protein foods. There are probably a few varieties to choose from by now so just use your favorite. It's a simple sandwich that the whole family will love.
I kid you not.
Let's Get Connected!
Facebook | Pinterest | Instagram | Bloglovin
IF FREEZING:
Let cool to room temperature. Package in rigid sided containers
TO PREPARE AFTER FREEZING: 
Remove from the freezer and put in the refrigerator overnight because it is a pretty solid mass and will take longer to defrost.
When serving – Put all in a large saucepan and heat through. You could also heat in a microwave but cover the microwave safe bowl with a paper towel or it will splatter all over on the inside of your microwave.
Serve up!