BBQ Baked Beans are an old fashioned staple that is enjoyed in all the regions of America. These beans in the slow cooker are made from scratch and it comes out with an excellent sweet and spicy flavor.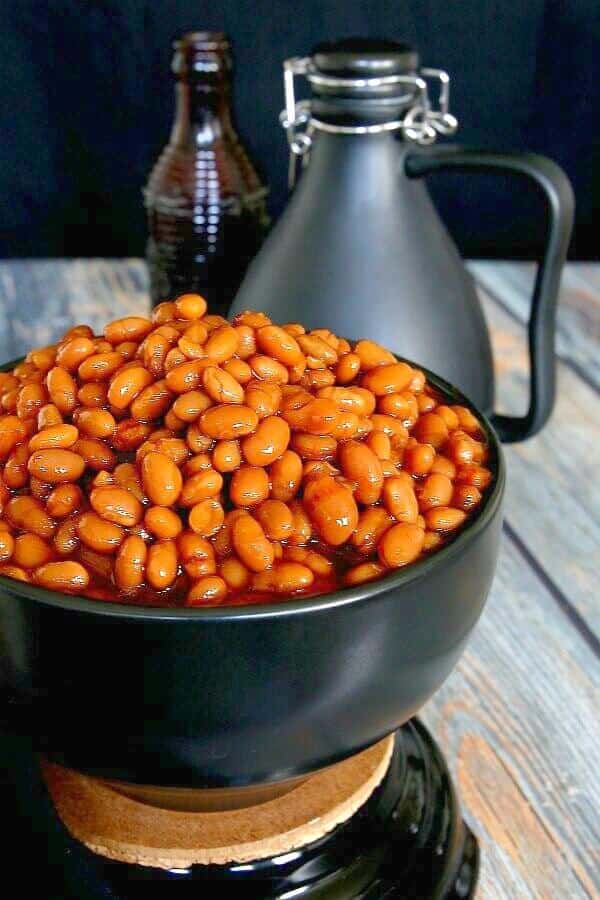 Do you know that baked beans are so delicious that there is some sort of variation made in just about every corner of the world. From the U.S. to the U.K. to Poland and around to Mexico and Brazil there is some tomatoey sweet concoction being whipped up for the family.
These aren't the traditional baked beans from the oven but they come out so delicious from the slow cooker too. If you're looking for tradition then I have a fantastic oven recipe for the Perfect Barbecue Baked Beans on the blog too.
In fact, if you'd like to make some great baked beans with a kick there's a recipe using canned beans with one of the cans being chili beans. Three kinds of beans all go in the slow cooker along with a little bi of Sriracha. It's good!
I guess you can tell I like baked beans and you might as well start with one of the best for your homemade recipe from scratch.
Presoak the beans overnight for easy preparation. Now there's only about 10 minutes of pre-preparation before everything is added to the crockpot. The resulting warm and satisfying meal is very inexpensive and it goes a long way.
What Kind of Beans Can Be Used for Baked Beans
Navy beans are the number one favorite. These snall white beans come from the haricot bean. If you can't find them dried in your grocery store sometimes they are called 'small white beans'.
Light red kidney beans can be used. They mix well with navy beans too.
Great northern beans are perfect too - they're just a bigger bean.
Pinto beans can be used but in a pinch and something very similar is made in Mexico.
Black Beans go surprisingly well with these baked bean ingredients.
I've actually been making this recipe for a few years now. Right below here is a photo of it from about 5 years ago. I make sure my comfort food recipes don't get lost.
Especially ones that are a favorite to so many people. I have a rotation of dinners I can make for my family. Ones that everyone likes and believe me that's not easy. Picky dang eaters.
Now as for me - I can't think of anything I don't like. Seriously. What is wrong with me! You'd think there was a vegetable or even fruit that I didn't like but - nope.
But anyway, this recipe is in on that list the I can make every once in a while. I guess that's where I can get picky. I don't want the same meal too close together. About a month apart is good.
So I have this list that goes to about 30 recipes and then I start over again. Once in a while I work in a new one. Truthfully, I had a 90 day list once and then we moved. Haven't found it yet!
One thing I am sure about that lost list though and it's that this BBQ Baked Beans recipe was on there.
Let's Get Connected
Facebook | Pinterest | Instagram | Bloglovin
BBQ Baked Beans in the Slow Cooker
BBQ Baked Beans are an old fashioned staple that is enjoyed in all the regions of America.
Ingredients
16

ounces

dried navy beans

1

tablespoon

extra virgin olive oil

3

ounces

tempeh bacon

½

cup

ketchup

32

ounces

vegetable broth

1

tablespoon

molasses

½

cup

onion, diced

1

teaspoon

dry mustard

1

teaspoon

salt

¼

teaspoon

pepper
Instructions
The night before cooking:
Place the beans in a very large stockpot or bowl. Cover with water by about 4 inches above the beans. Let soak on the counter overnight. They will plump up.
The morning of cooking:
Drain the presoaked navy beans and put them in the slow cooker.

Add a tablespoon of oil in a small skillet and cook half of the vegan bacon on each side, it browns very fast.

When the bacon is done - slice into thin cross-slices.

While the bacon is cooking, dice the onion.


Add all of the ingredients to the slow cooker.

Turn on low and cook for 6 to 8 hours.

They can also be cooked on high for 3 to 4 hours.
Nutrition
Serving:
1
Serving
Calories:
364
kcal
Carbohydrates:
58
g
Protein:
22
g
Fat:
5
g
Saturated Fat:
1
g
Sodium:
621
mg
Potassium:
1215
mg
Fiber:
18
g
Sugar:
10
g
Vitamin A:
105
IU
Vitamin C:
1.8
mg
Calcium:
146
mg
Iron:
5.1
mg