Healthy Vegan Banana Bread Squares is one of the easiest Banana Bread recipes and probably the best tasting banana bread squares. They're enriched with flax seeds and sweet dates and goes so well with your morning drink. Enjoy as a snack or bring to a get-together too.
When I first moved out of my parent's house, I began to cook and bake for myself. It seemed like all my friends got their own place around the same time.
We often celebrated our first move towards independence with a lot of get-togethers and parties. They were fun!
We all would share bringing food and drinks and for some reason— I can remember it so clearly – everyone had a homemade banana bread to try out.
They all looked great, and although somewhat differently made, they tasted delicious. That's of course when I started experimenting with baking banana bread. And I have baked and enjoyed quite a bit of them over the years.
I don't think you can get enough fruit-based bread recipes in your repertoire, so, voila, here is my updated version of natural and healthy banana bread with the addition of dates and fiber-rich flax seeds.
Oh, I sometimes also like to play with textures and the shapes of my baked goods, and I like to cut this one into squares from an 8″ x 8″ pan. It is straightforward to make and a recipe I think you are going to love!
Fun Facts About Banana Bread:
Banana Bread and Banana Cake are two different things. There are subtle differences that separate them. Both are made with, of course, ripe bananas, but banana bread is mainly less sweet, more dense and heavier in texture. Making it more of a breakfast or snack option and cake is more like a dessert.
The banana quick bread recipe was created during the Great Depression. Homemakers didn't want to throw away any food, even overripe or mushy bananas.
One of the first banana bread recipes to appear in an American cookbook was in "Balanced Recipes" from Pillsbury's (1933). It's spiraled back and hardbound and the hardcover is actually hard aluminum.
Since the bread is made without yeast, it doesn't need time to rise before baking. Hence the name quick bread!
In the early 1930s, banana bread recipes were everywhere. Just like today.
But what they all seem to still have in common are mashed bananas, a leavening agent, some sweetener, flour, and fat.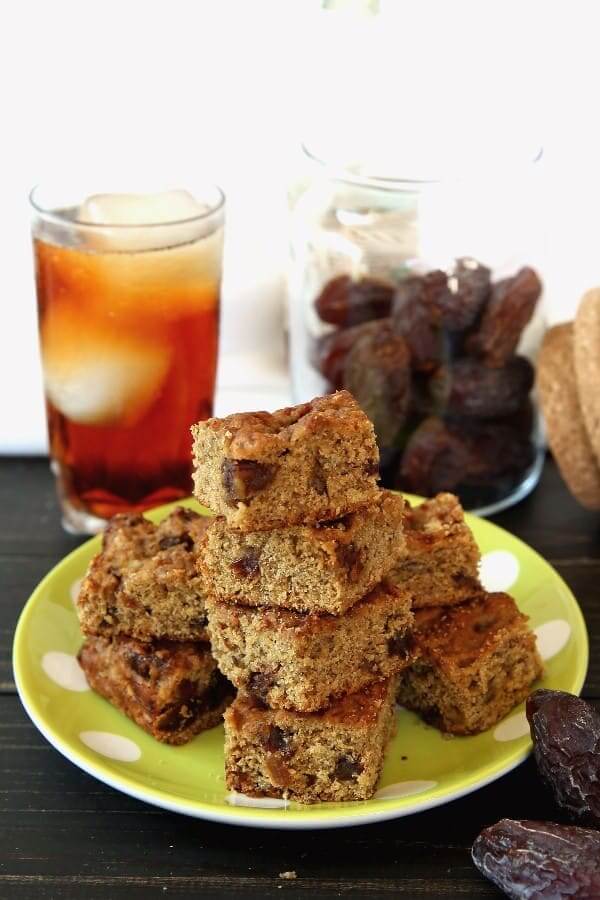 I think today Banana Bread is one of those classic baked goods that are here to stay!
Well, I am happy to share with you my version of a healthier fine tasting banana bread recipe! I bet this one isn't like any that you've had. There are dates inside and a bit of flaxseed meal too.
How to Make Healthy Vegan Banana Bread Squares
Below is a photo of some of the steps in making this great breakfast or snack.
Firstly measure the dry ingredients into a large mixing bowl. Mix together.
Mash the bananas in a small bowl. It took two bananas to make a cup. Mine were medium sized.
Lemon juice into the oil and mix.
Chop the dates into smallish pieces. Sometimes I'll just use scissors. It makes cutting up the sticky dates easier.
Add the wet ingredients and the banana to the dry ingredients and lightly mix.
Add the dates and fold in. Don't overmix but make sure everything is combined.
Now, let me tell you about the parchment lined pan.
I do this quite a bit in baking and it makes baked goods so easy to remove and set on a cooling rack.
Cut parchment paper longer than the widest part of the pan and let it overlap so that it essentially becomes handles.
Scoop or pour in the batter and bake that way. Don't let the parchment paper lay on the batter.
After baking all you do is get ahold of the paper, lift and set on the rack.
It is apparent that I love my vegan banana bread as I have a few of them in my recipe collections on this blog.
You should also check out the Moist Gluten-Free Banana Bread. It's one of the most popular on the blog.
Well, I forgot. This Blueberry Banana Bread is probably just as popular.
What is so great about this Banana Bread Recipe?
Tender with a sweet brown crust and a lovely banana flavor.

Sweetened with only ½ cup coconut sugar and the rest with chopped dates—fresh ones are the best. The combination gets you the perfect amount of sweetness.

Light in texture, yet rich in fiber with whole wheat pastry flour and flax seeds.

A healthy and super yummy banana bread recipe that compliments your breakfast table!
Really simple to make and as I sit at breakfast with one of my Banana Bread recipes (in fact, this one) I think life is good and I can see clearly that these are my future 'good old days'.
📋 Recipe
Healthy Vegan Banana Bread Squares
Banana bread is an old standard. Here is my updated, healthy and tasty version with the addition of dates.
Ingredients
1

cup

2 bananas, 1 cup mashed

1

tablespoon

fresh lemon juice

⅓

cup

extra virgin olive oil

½

cup

coconut sugar

1 ½

cup

whole wheat pastry flour

½

teaspoon

salt

1

teaspoon

baking powder

½

cup

flaxseed meal

1

cup

dates, chopped
Instructions
Lightly oil an 8" x 8" baking pan or Lay parchment paper across the bottom of the pan and bring it up over the edges for form flaps.



Lightly mix the dry ingredients. Add the liquid ingredients and banana. Mix until just combined.

Fold in the dates and barely mix but make sure everything is combined.

Spoon into the prepared square pan. It is a thick batter and spread into all corner. It will not be completely flat on the top. See the photos.


Bake at 375• for 30 minutes for a light and moist banana bread.

Remove from the pan and let cool on a wire rack.

Notes
TO FREEZE:
After they have cooled you may freeze them in any of the methods shown in my article Preparing Food For the Freezer.
They defrost quickly so it really doesn't take any planning. The microwave will also zap them in 10 seconds.
Nutrition
Serving:
1
Square
Calories:
135
kcal
Carbohydrates:
19
g
Protein:
2
g
Fat:
6
g
Sodium:
84
mg
Potassium:
200
mg
Fiber:
3
g
Sugar:
10
g
Vitamin A:
5
IU
Vitamin C:
1.2
mg
Calcium:
31
mg
Iron:
0.9
mg
Here is the first photo that I had for this recipe when it was first created back in 2012. Wow!