Healthy Balsamic Roasted Broccoli is a very quick and satisfying vegetable side dish. Rich balsamic flavors are enhanced with freshly roasted garlic.  Under 30 minutes too!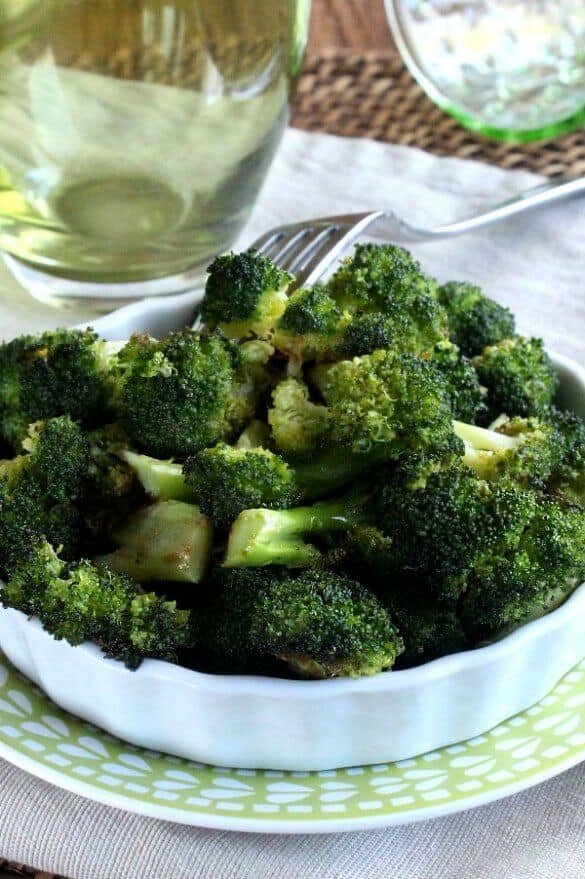 Broccoli is a favorite vegetable for a huge percentage of people. It sure is one of mine. So much so that I have at least eight different recipes on the blog starring broccoli.
There are casseroles and appetizers and salads and there's even a quiche.  But … this recipe is the only one where it stands alone with a few ingredients for super delicious flavor enhancement.
I mean who can argue with a balsamic glaze?
It's really simple and super fast with hardly any work at all.  In fact, it's workless!  Only 4 ingredients along with salt and pepper and you're golden.
I mentioned in the recipe card that you could also make this recipe with half broccoli and half cauliflower. That would also be fantastic.
What are the Health Benefits of Broccoli?
Lots of Vitamins! Vitamins C, B1, B2, B3, B6, and K.  And beta-carotene is converted into vitamin A.
Not only that, nutrients abound. Iron, magnesium, potassium, and zinc.
Fiber, fiber, fiber.
Broccoli hardly any calories but it still fills up and nourishes you.
What are the best ways to prepare Broccoli?
I've been a broccoli eater for as long as I can remember and have prepared it in every way there is.  It turns out that preparing broccoli in ways that enhance the vegetable the most are also the healthiest way to prepare broccoli.
Steaming, stir-frying, and roasting are my favorites.  You can cook broccoli to just the right tenderness while preserving its nutrients.  Baking in a casserole is definitly on my list of favs too.
What is the Best Way to Store and Freeze Healthy Balsamic Roasted Broccoli?
Before you even start the recipe you need to store broccoli in the refrigerator.  Store it in your vegetable crisper, unwashed.  It is best in a perforated bag but you can keep it in the plastic grocery store bag if you tear a few holes in it.
Storing in the refrigerator:
Will keep covered in the refrigerator for 3 to 4 days before roasting.
If you'd like to freeze the broccoli before preparing for this recipe:
If you'd like to freeze fresh broccoli you will need to freeze the broccoli before combining with the other ingredients for roasting. After cutting the broccoli as described, place into boiling water and blanch for 3 to 5 minutes.
Remove the vegetables from the boiling water and plunge into ice cold water to stop the cooking process. Drain the broccoli and pack into freezer bags for up to 4 months.
How to Prepare This Roasted Broccoli Side Dish if the Broccoli is Frozen First
When you want to prepare the recipe for Balsamic Roasted Broccoli, take the broccoli out of the freezer and defrost in the refrigerator for at least 6 hours. Continue with the recipe as if the broccoli was fresh.
Have ready a baking pan that measures about 10 x 13 inches. Combine the coconut oil, garlic, salt, and pepper in a large bowl. Put the broccoli in the bowl and lightly toss to evenly coat the broccoli as best you can.
Spread out the broccoli on the baking sheet and preheat the oven to 425°F. Bake for 7 minutes and then flip the spears with a spatula. Bake for another 8 to 10 minutes, or until you can piece a broccoli spear easily with a fork.
Remove from the oven. Drizzle the balsamic vinegar over the broccoli and toss. Serve hot.
How to Prepare Balsamic Roasted Broccoli
Just follow the directions right below here in this recipe card for a quick, delicious, and healthful side dish.
This post contains affiliate links. Read my disclosure policy here.
You know those other broccoli recipes ideas I mentioned above?  Well here's a pic of one of the favorites on the blog.  It's a fresh Apple Broccoli Salad.  Yum!