Baked Potato Soup is hearty, creamy, easy, vegan and this recipe is a little different. It's plant-based, and carrots are added for just a hint of sweetness.
Soups on! That is one of the most inviting and comforting statements out there. Even if you just whisper it to yourself you probably have a smile on your face.
There is such gratification when you are looking at a big pot of homemade soup. Luckily, it is actually easy to do.
I have heard that if you can make a great soup from scratch, then you are a good cook.
Just put a big pot on the stovetop and get to it. When you are ringing the dinner bell, people will come running.
It's hard to have a better soup than loaded baked potato soup made from scratch!
What potatoes bake best
Truly, russet potatoes are the best for baking.
The small, colorful baby potatoes on the market now have many pretty color varieties with their purple, red, and gold skins, but they are small and hard to handle.
Yukon Gold potatoes are yellow and aren't as starchy as russets. Starchy is good for baked potatoes, though.
Russets taste fantastic, but you may need to clean up their skins a bit.
Fingerling potatoes have nutty or earthy flavors, with different varieties also being in different colors. It's not great for baking but great for roasting.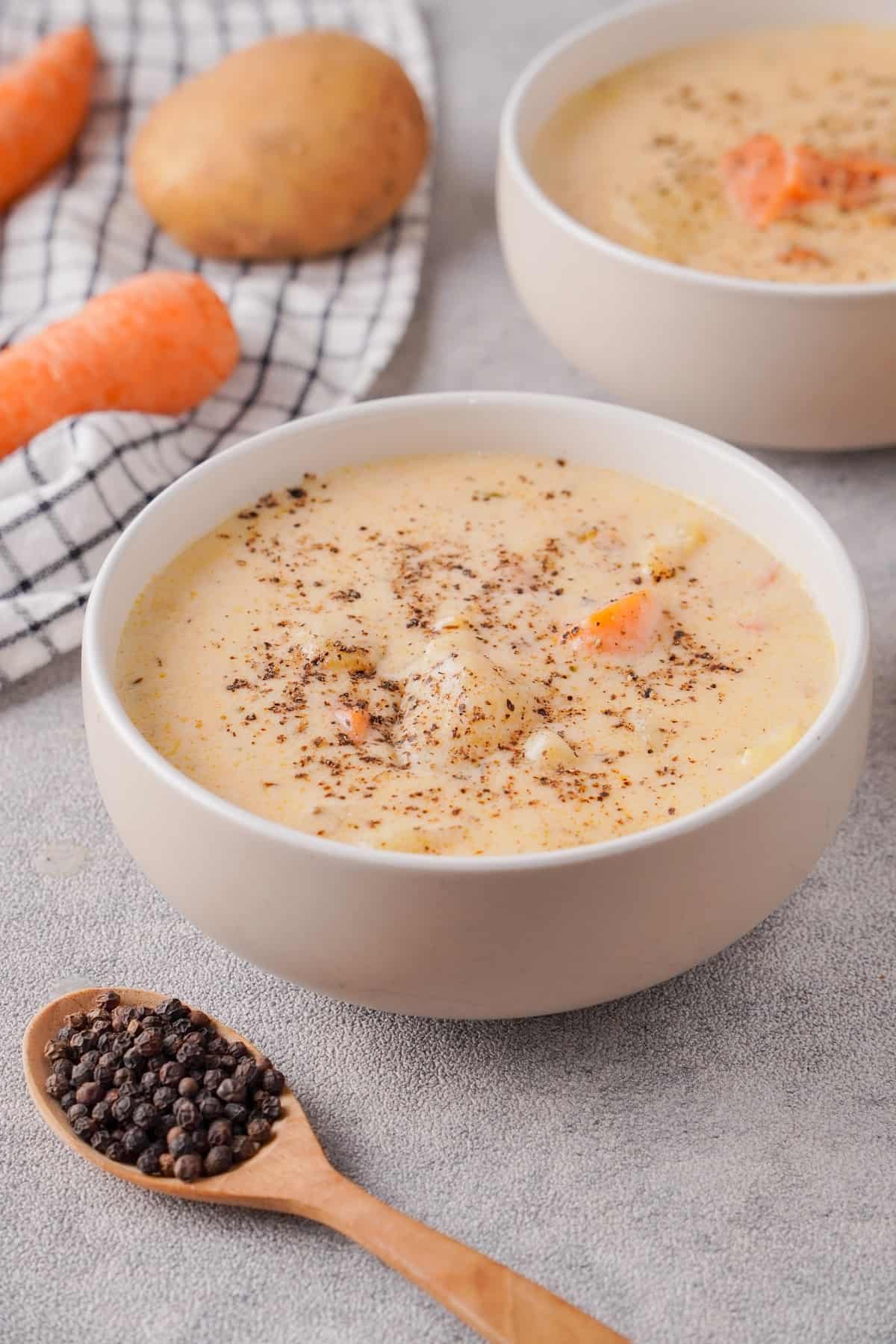 Helpful tools
Stockpots are great for cooking. There's plenty of room for any soup or stew.
Cutting boards are needed in almost every recipe. This set has three sizes.
A 7" or 8" chef's knife takes care of all your chopping needs.
Great homemade soups
📋 Recipe
Carrots and Baked Potato Soup
Baked Potato Soup is hearty, creamy, easy, plant-based and carrots are added for just a hint of sweetness.
Ingredients
½

cup

non dairy butter

½

cup

onion

- diced

½

cup

all-purpose flour

6

cups

non dairy milk

1

cup

vegetable broth/stock

¾

teaspoon

paprika

1

teaspoon

dried thyme

1

teaspoon

sea salt

¼

teaspoon

ground black pepper

7

cups

russet potatoes

- about 5 large

1 ½

cups

carrots

- about 4, chopped
Instructions
Scrub the potatoes clean and poke them with a knife so that steam can escape while they are baking.

Place in the oven and bake at 400°F for 1 hour, or until you can easily pierce the potato with a fork.

Remove and let set so they can cool for handling.

While the potatoes are baking -

In a medium saucepan cover the carrots with water.

Bring to a boil and simmer over medium heat for 20 minutes.

Drain.

Peel and cube the potatoes into large bite size chunks.

In a stock pot, melt the non dairy butter over medium heat.

Add the onion and saute for 10 minutes.

Stir in flour until well combined and cook for about 2 minutes. Watch closely.

Gradually stir in non-dairy milk and vegetable broth over high heat, and bring to a boil, stirring constantly. Turn down the heat to medium.

If you would like the soup a little thinner then you can add more vegetable broth, ¼ cup at a time.

Add the paprika, thyme, salt, and pepper. Stir in.

Gently stir in potatoes and carrots.

Heat through so that the vegetables get hot, about 10 minutes.

Sprinkle a little pepper on top, if you like.
Notes
You can't freeze this soup but it will keep in the fridge for 3 days.
To reheat the leftovers -
place in a saucepan and heat through.
You can add a little vegetable broth if is has thickened. Don't add it until the soup is hot because the thickness can be deceiving when the soup is cool.
Nutrition
Serving:
1
Serving
Calories:
445
kcal
Carbohydrates:
53
g
Protein:
13
g
Fat:
20
g
Saturated Fat:
3
g
Sodium:
686
mg
Potassium:
1237
mg
Fiber:
4
g
Sugar:
9
g
Vitamin A:
7375
IU
Vitamin C:
14
mg
Calcium:
342
mg
Iron:
3.4
mg