Artichoke Chipotle Hummus is as easy as any hummus but there's so much more to enjoy. Spicy with a flavor twist to keep everyone coming back for more.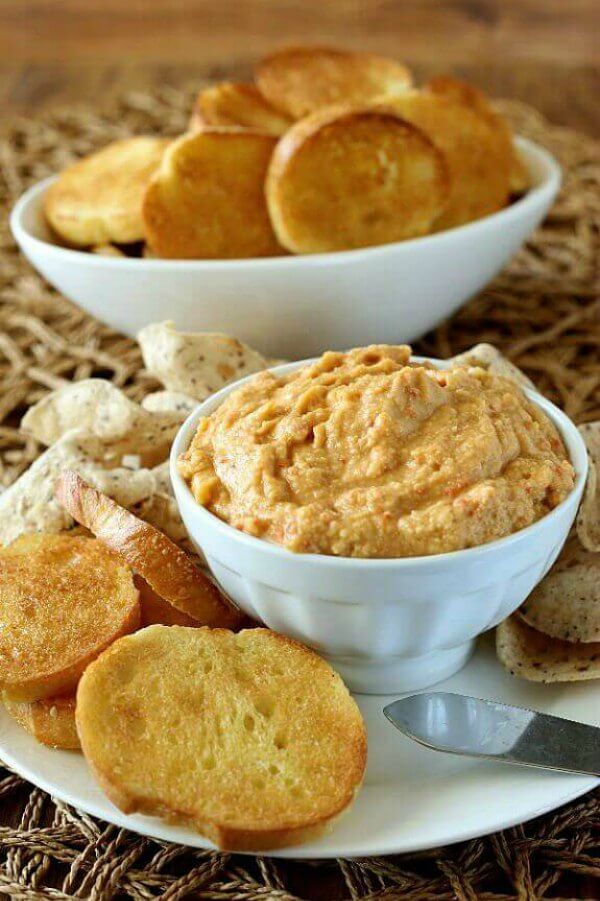 Ohhh, I figured out another hummus or to put it in plain English that translates better for my relatives - A dip for game day! I'm smiling because I love them so much.
You'll be smiling too if you try out this recipe. It's hummus but it also has a tangy texture with a spicy kick. Spread it on little crostini toasts or dip veggies in it. It's all good.
Nothing could be easier either because everything goes into a food processor and then you push a button. What!?! Yes, easy and Delicious with a capital D.
What Are Some Hints for Preparing Artichokes from a Can?
You know artichoke hearts that you buy in a can? Well, I am a true believer in taking some of those outer leaves off of the artichoke.
To me, they just don't get the job completed over at the plant.
You only have to take off one layer but it makes all the difference. Tender artichoke hearts are waiting.
Oh, yeah. For this recipe make sure they are packed in water too. NOT marinated.
I've been brave enough in the past to mix it up with hummus and guess what! They worked out great also.
I mean, what could go wrong with Kalamata Hummus or Spicy Black Bean Hummus. Well, haha, it turns out - nothing!
Check out the picture for the Kalamata Hummus!
Do you love your food processor? First I should ask if you have one. It's an expense and it takes up a lot of room.
Well, I bit the bullet and now we have a large one.
It needs to be left on the counter because it is so helpful but I don't think to pull it out half the time. If you can't tell I'm trying to convince myself to find some counter space.
This Artichoke Chipotle Hummus took minutes to make with a food processor and I don't think I could have ever accomplished the same texture any other way.
How to Organize Your Big Appliances
Okay! It's organizing day tomorrow and that appliance is coming out. I'm laughing at myself because I just looked over and there are already five appliances sitting out there.
Good thing I have a long counter against the wall.
I swear I use them all and more. I wonder which appliance I could possibly get for Christmas this year. Haha! I don't have an emersion blender. Don't tell my husband. Or do!
If you have a long counter as I do then it looks best if there is something between each appliance and a little space too.
Something like a sleek stainless woven utensil stand holding wooden spoons or tools such as spatulas. A roll of paper towels on another pretty stand is a good separator too.
Also, if you have a corner then three appliances would look good with one angled in the corner and one on each side. This looks nice without taking up working space.
Update: I have an emersion blender!
So take a step forward, get organized and make this dip with me. Use a food processor and you'll be enjoying this hummus in no time. You'll really be glad you did. I promise!
Artichoke Chipotle Hummus
Artichoke Chipotle Hummus is as easy as any hummus but there's so much more to enjoy.
Ingredients
15

ounce

garbanzo beans, drained

- one can

1

chipotle peppers in adobo sauce

- 1 pepper and some sauce

2

tablespoons

adobo sauce

1

clove

garlic

1

tablespoon

lemon juice

2

tablespoons

extra virgin olive oil

½

teaspoon

sea salt

8

ounces

artichoke hearts in water
Instructions
To a food processor add garbanzo beans, chipotle peppers, adobo sauce, lemon juice and olive oil.

Remove any of the tough outer leaves of the artichoke hearts and throw away.

Add the artichoke hearts to the processor and process but leave a few small chunks.

Serve with chips, crackers and veggies.
Nutrition
Serving:
2
Ounces
Calories:
81
kcal
Carbohydrates:
8
g
Protein:
2
g
Fat:
4
g
Sodium:
537
mg
Potassium:
84
mg
Fiber:
2
g
Sugar:
1
g
Vitamin A:
175
IU
Vitamin C:
4
mg
Calcium:
19
mg
Iron:
1
mg