Apple Waffles are perfect for that special morning when you want to have something out of the ordinary. Loaded with apple on the inside!
Apples are the perfect food. They come in multiple colors, flavors, and degrees of crispness. Apples are full of nutrients and extremely rich in important antioxidants.
I could do a whole article on just talking about their health benefits but let's just call them what they are and by their second name. Miracle Food.
Now, when it comes to recipes they run the gamut from appetizers to desserts. Nothing can stop the apple.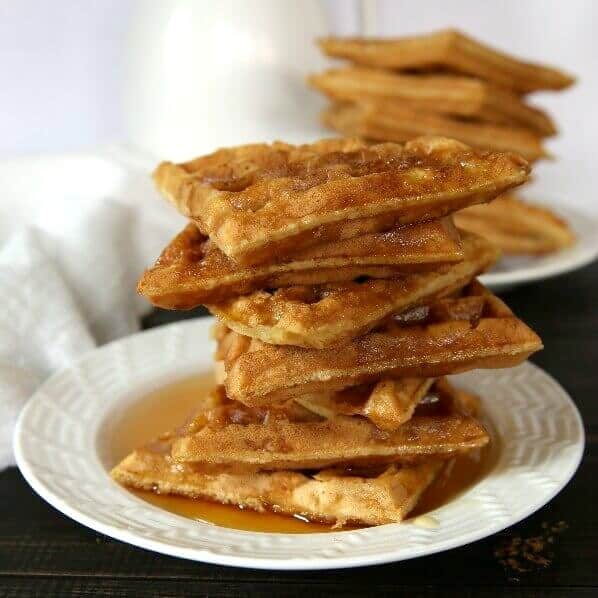 This post contains affiliate links. Read my disclosure policy here.
I was curious to see how many recipes I have on the blog with apple inside. So I counted.
Sixteen counting this one! With recipes like  Vegan Apple Broccoli and Cinnamon Apple Crisp Muffins these Apple Waffles are in good company.
Check out the muffins!
Not only can these waffles make a breakfast memorable they are also good to grab as you are running out the door and eat as if it were a muffin.
Not syrup sweet but the apple will come through more clearly and that will be your sweetness. Sounding healthy? Not bad at all and delicious.
Connect with Vegan in the Freezer
Facebook | Pinterest | Instagram | Bloglovin
Watch Apple Waffles Being Made in a Belgian Waffle Iron too!
TO FREEZE:
Let cool to room temperature and put in a freezer bag and place in the freezer.
TO PREPARE AFTER FREEZING:
Take out of the fridge and let defrost a couple of hours and heat in the toaster. Serve with syrup of your choice.