Amazing Bundt Cake Fruitcake is the best fruity sweet concoction that you will be proud to serve. Make copies of the recipe – people will be asking for it.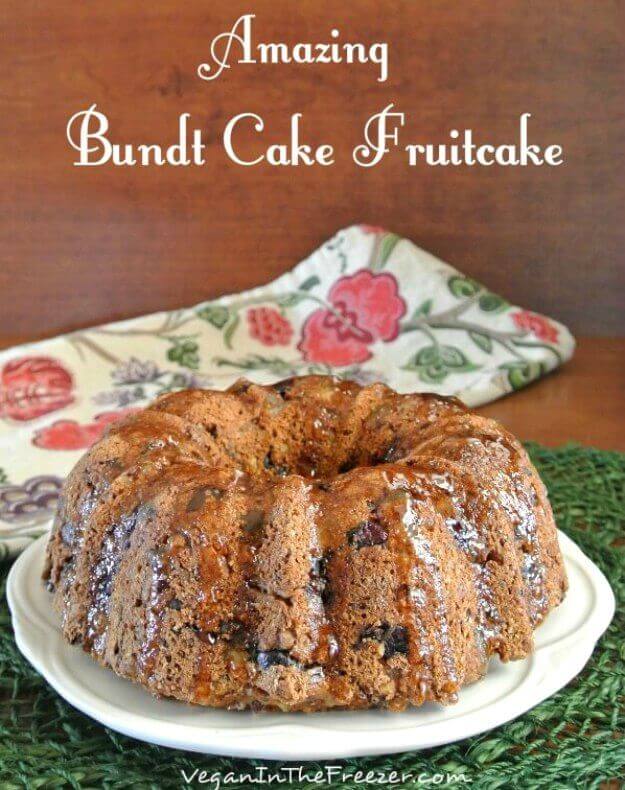 Christmas brings out the best in everyone and everything.  Excitement, kindness, spirituality and we must not forget that people become decorating geniuses.
Another huge factor for the season is the food.
Everyone's best recipes come out this time of year and seasonal treats are baked for ourselves and for others.  A winter must-have is fruitcake.
Not the dried and hard fruitcake from ages past but the best fruity sweet concoction that you will be proud to serve.  This Amazing Bundt Cake Fruitcake has all of those qualities and more.
Six fruits are used in this recipe and pecans are added too.  There are some really nice and healthy ingredients inside the recipe too.  You must check it out.
The smaller 6 cup bundt pan is used for this recipe.  The fruitcake stands taller and looks really pretty.  The slices are usually smaller anyway because fruitcake is so rich that you don't need much.  There are 14 generous slices.
The smaller size for this Amazing Bundt Cake Fruitcake is also handy because it makes fantastic holiday gifts.  You could add a little card with the recipe printed on it too but one thing for sure.  Make extra copies of the recipe because people will be asking for it.
Another fruity Christmas recipe is a healthier cookie is Dairy-Free Oatmeal Cranberry Cookie.  Besides cranberries there are lots of other flavorful and fiber full ingredients.
These cookies are super!  Place them on a plate next to your beautiful fruitcake and eyes will sparkle.
I don't know if you ever noticed that there is kind of a competition out there in the world about who makes the best fruitcake.
Once I even got cornered by a lady, right in front of mom, and she pretty much demanded that I say which fruitcake was best.
Hers or moms.  I just couldn't say because I actually really liked moms best and I think this lady would have taken my head off.
Well, now is your chance to win the ultimate contest.  This recipe really is the best one.
Connect with Vegan in the Freezer
Facebook | Pinterest | Instagram | Bloglovin
Amazing Bundt Cake Fruitcake
Amazing Bundt Cake Fruitcake is the best fruity sweet concoction that you will be proud to serve.
Total Time
1
hour
5
minutes
Ingredients
3

oranges

1/4

cup

cranberry juice

1/2

cup

Dried Cranberries

1/2

cup

Golden Raisins

1

cup

Pitted Dates, chopped smaller

1

cup

Dried Pineapple, chopped smaller

1

cup

chopped Pecans

2

tablespoons

Flax Seed Meal and 6 tablespoons water

1

teaspoon

Vanilla Extract

1

tablespoon

Maple Syrup

2

cups

whole wheat pastry flour

1 1/2

teaspoons

Baking Soda

1/2

teaspoon

Ground Cinnamon

1/4

teaspoon

Ground Nutmeg

1/4

teaspoon

salt

For the Glaze:

1/2

cup

apple jelly
Instructions
What a beautiful bunch of ingredients.

I used the smaller Bundt Pan (it measures 6 cups) because I wanted a taller cake. Mine came from Target and there are many colors to choose from. The cake turned out beautiful and you can slice thinner slices.

You can certainly use any bundt pan that you have - A larger size will turn out lower height but it will still be really pretty.

Oil the bundt pan - I used coconut oil.

Mix the flax seed meal and water together and set aside so that it can gel. It only takes a few minutes.

Squeeze all of the juice from the oranges to get close to 1/2 cup of juice. It can be a bit under 1/2 cup but you need more than 1/4 cup.

In a medium bowl add the flour, baking soda, cinnamon, nutmeg and salt. Mix together.

In a large bowl add the orange juice, cranberry juice, cranberries, dates, raisins, pineapple, pecans, vanilla extract, maple syrup and the thickened flax seed meal mixture.

Mix all together.

Add the flour mixture to the fruit mixture and blend well.

Pour into the prepared bundt pan and flatten it down, as well as you can, on the top.

Bake at 325 degrees for 45 minutes.

Cool in the pan on a wire rack for about 30 minutes.

Remove from the pan and let cool completely.

Melt the apple jelly in the microwave and drizzle over the top of the cake.
Recipe Notes
Wonderful fresh but it also freezes really well.  If you chooses to freeze please use one of my methods as described in my article
How to Prepare Food for the Freezer.
Nutrition Facts
Amazing Bundt Cake Fruitcake
Amount Per Serving (1 Slice)
Calories 267
Calories from Fat 54
% Daily Value*
Total Fat 6g 9%
Sodium 164mg 7%
Potassium 280mg 8%
Total Carbohydrates 52g 17%
Protein 4g 8%
* Percent Daily Values are based on a 2000 calorie diet.