Homemade Air Fryer Onion Rings with No Egg or Buttermilk - zesty onions coated in crispy panko crumbs, chickpea flour, and spices for crispy, irresistible air-fried onion rings.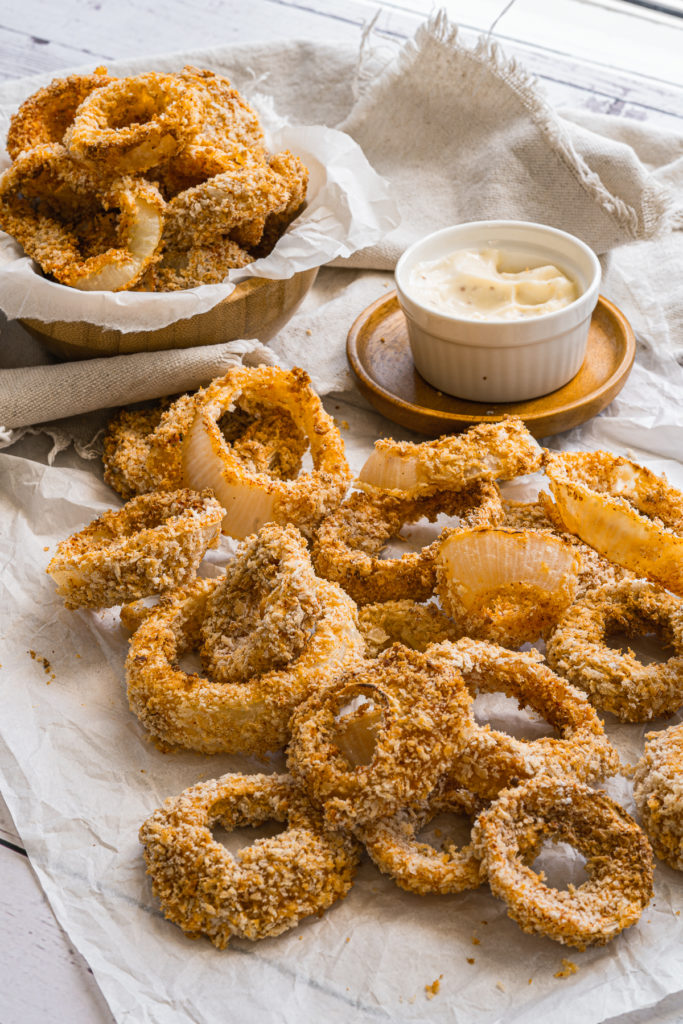 I don't know about you, but I LOVE a good onion ring. The fact that I can air fry them now makes them even better! This recipe for air-fried onion rings is sure to become one of your favorites. I have recreated an indulgent food in a healthy (and delicious) way. These vegan onion rings are soft and tangy on the inside, and crispy and savory on the outside. They are guilt-free and a yummy addition to any meal.
These air fryer onion rings are crispy, flavorful, and delicious. An added bonus? You won't feel guilty about craving them because they are air-fried, meaning they don't have any of the extra fat and calories that fried onion rings contain. These have become a regular dish at my house - they pair well with just about anything and are simple to make. Just chop your onions, prepare your coating mixture, toss them, air fry, and enjoy! You may want to make a double batch of these - they're so tasty that they won't last long!
Why You'll Love These Homemade Air Fryer Onion Rings
They're air fried, making them taste like an indulgent treat without the fat and grease. This is a healthy way to satisfy your fast food craving!
These vegan onion rings are perfectly crispy on the outside and soft and sweet on the inside.
They're easy to make and your house will not have that icky grease smell.
These are popular with kids and adults alike.
These vegan onion rings are a very versatile dish - enjoy them as a side, snack, or appetizer. Pair them with your favorite sauces for even more variety!
Equipment Needed To Make Air Fryer Onion Rings With No Egg or Buttermilk
Knife
Whisk
Small Bowl
Air Fryer
Ingredients For Your Air Fryer Onion Rings No Egg or Buttermilk
Panko
Chickpea flour
Large onions
Nutritional yeast
Smoked paprika
Cornstarch
Water
Garlic powder
Salt
How To Make Homemade Onion Rings in Air Fryer
To make these delicious homemade air fryer onion rings you'll need to start by cutting thick slices of onion, about ¼ of an inch in size. Separate the rings from each other and dip in the cornstarch. From there you move to the chickpea egg mixture and then coat in panko. Place your breaded onion ring in the air fryer and cook until golden brown!
What to Serve/Pair with Your Homemade Air Fryer Onion Rings
These air-fried onion rings pair well with just about any dipping sauce. I like to dip mine in a homemade vegan ranch for some extra zest.
These would make a great appetizer, especially for football season. Pair them with air-fried tofu nuggets and serve them on a tray for a football watch party, and I can almost guarantee that you will leave with an empty tray.
These air-fried onion rings also make a great side item. I love to pair them with air-fried tofu nuggets for a filling, healthy meal. This is a great way to satisfy your fast food cravings in a healthy way.
If you're like me and have a sweet tooth after dinner, these vegan onion rings pair well with just about anything sweet! I like to pair mine with a fresh fruit salad or a vegan chocolate mousse. Yum!
Popular Substitutions & Additions
If you want a little more spice, add a dash of cayenne pepper into the spice mixture.
If you're following a keto diet, switch the panko crumbs out for almond flour. If you're not keto but don't have any panko crumbs on hand, you can also use regular bread crumbs.
How To Reheat & Store Homemade Air Fryer Onion Rings?
One of the best things about this recipe is that these onion rings can be frozen after cooking. Simply cool the onion rings and put them in a sealed container. They will last in the freezer for up to 6 weeks, and you don't have to thaw them before cooking. They can go straight back into the air fryer while they are still frozen.
These air fryer onion rings can also be stored in the fridge for up to two days. Reheat them in the microwave or air fryer until warm. Keep in mind that the texture of these is definitely better when they are enjoyed fresh. They may not be as crispy once they have been refrigerated.
Homemade Air Fryer Onion Rings FAQs
Does it matter what kind of onions I use?
This is a personal preference. I like yellow onions because they are sweeter, but feel free to use whichever kind of onions you have on hand.
Why isn't my coating sticking to the onions?
This usually doesn't happen, but if it does, it could be because your onion wasn't completely coated in corn starch. Make sure that it is completely covered in that and the chickpea egg mixture before putting it into the outer coating mixture.
How many onion rings can I put into the air fryer at once?
You'll want to make sure that you only put as many onion rings that will fit in a single layer in the air fryer at once. You can serve these in batches while the others are still cooking so that you can enjoy them warm.
Other Vegan Air Fryer Recipes You'll Love
Don't Forget To Come Back And Let Me Know How Your Homemade Air Fryer Onion Rings Turned Out!
📋 Recipe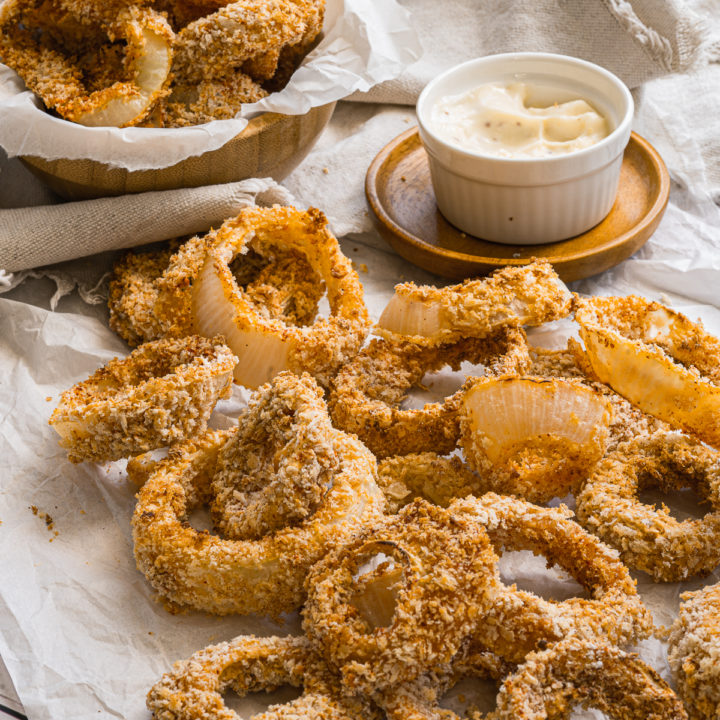 Homemade Vegan Air Fryer Onion Rings
This homemade onion ring recipe is made in the air fryer and does not use eggs or buttermilk. It's vegan-friendly and delicious!
Ingredients
2

cups

panko

(regular breadcrumbs would work, and almond flour for a low carb version too)

¾

cup

chickpea flour

3

large onions

1

tbsp

nutritional yeast

1

tsp

smoked paprika

½

cup

cornstarch

+ 2 tbsp (separately)

½

cup

water

1

tsp

garlic powder

1

tsp

salt
Instructions
Start by chopping the onions in thick slices, about 4-5 slices per onion. Then separate each ring(the internal layers of the onion) by pressing from the centre, leaving 2 of them together if they're too thin. This will assure a soft onion ring when cooked.

Prepare the chickpea egg by mixing the chickpea flour with water, and 2 tbsp of cornstarch. Then add smoked paprika, nutritional yeast, salt and garlic powder. Whisk well to avoid clumps. This should result in a thick batter, if it is not the case you could always add more cornstarch to thicken.

Place ½ cup of cornstarch in a small bowl, this is going to be the first step for the onion rings. Take one ring and coat it with cornstarch, shake it to throw away the excess.

Then place it in the chickpea egg. Make sure to perfectly coat it.

Finally, dip in the Panko.

Place each ring in the Air Fryer basket without overlapping, you may need to cook them in batches.

Cook them in the AirFryer at 400 F for 8-10 minutes.
Nutrition
Calories:
310
kcal
Carbohydrates:
59
g
Protein:
11
g
Fat:
3
g
Saturated Fat:
1
g
Polyunsaturated Fat:
1
g
Monounsaturated Fat:
1
g
Sodium:
822
mg
Potassium:
428
mg
Fiber:
6
g
Sugar:
8
g
Vitamin A:
257
IU
Vitamin C:
6
mg
Calcium:
87
mg
Iron:
3
mg