Air Fryer Spicy Cauliflower Stir-Fry is fast and simple. It is so gratifying to have a new side dish for your family to enjoy. Delicious flavors get you lots of compliments.
Finally! I got an air fryer and I'm diving into creating recipes that are delicious, fast and lower in fats and oils.
Now don't fret if you don't have an Air Fryer yet. You can still make Air Fryer Spicy Cauliflower Stir-Fry in a skillet but you would have to add a little oil.
I'll have to chalk this appliance score up to my husband. Again!
All I said was that 'I'd really like to get an Air-Fryer. It's the new big thing!" So he asked about it and I said I really wasn't sure but it's like frying food but with very little oil.
So he started searching amazon. Not only did I get an air fryer but he bought one that has a stirrer paddle in it.
Now I don't even have to shake the bowl halfway through. I mean that's not a hard thing to do but that's what I got.
Jump to:
I guess he really wanted me to make some air fried dishes. It also has a pan with no holes so I don't need to buy the extra insert.
You should see how beautiful and crispy my bean balls and lentil balls are.

Sometimes, when a new recipe is created the first round isn't exactly what you are looking for. In fact, sometimes it takes two or three tries to get it just right.
This Air Fryer Spicy Cauliflower Stir-Fry came out a winner and surpassed all my expectations right out of the gate. You'll have huge success too.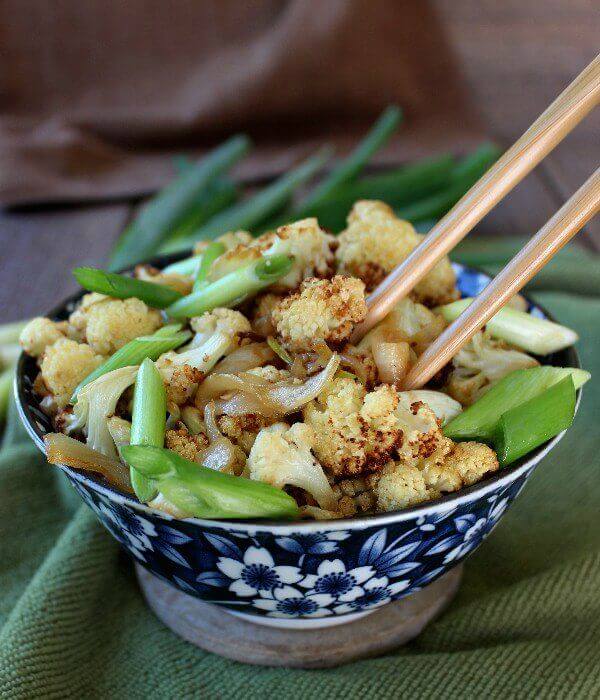 🥘 Ingredients
Cauliflower - is the highly nutritional and filling vegetable for this recipe.
White onion - is more tender than yellow onion and stands out well in taste.
Garlic - goes a long way in the flavor department with just a little bit.
Tamari or gluten free tamari - tastes very much like soy sauce but tamari but a bit milder.
Rice vinegar - is milder than vinegar and it is even a little bit sweet.
Coconut sugar - adds so much of a different type of sweet flavor in a very understated way.
Sriracha - is an Asian hot sauce that isn't quite as hot as something like Tobasco.
Scallions - for flavor and garnish.
Well, I'm in love with Air Fryer Spicy Cauliflower Stir-Fry! There is just some chopping, measuring and a little bit of shaking. If even that.
Follow the directions below and you'll love it too. I'll add some notes right here if you would like to make Spicy Cauliflower Stir-Fry in a skillet or wok.
💭 Spicy Cauliflower without and Air Fryer
It's also easy in a skillet, But you do need oil. Add 1 to 2 tablespoons oil to skillet.
Add cauliflower and cook (stirring) 10 minutes, add onion and cook 10 more minutes. Add garlic and cook 5 more minutes.
Mix soy sauce, rice vinegar, coconut sugar, Sriracha, salt & pepper together in a small bowl. Add to the skillet and cook and stir for 5 more minutes.
Serve hot with scallions as garnish.
In the comments Katie asked which air-fryer I got. I thought I'd post it up here so others could find it easier - just in case. It is the T-fal ActiFry. It's pricey but really a nice one.
🥗 More air fryer side dishes
Can I tempt you with another type of air fryer recipe? It's Air Fryer Sticky Mushroom Rice and it's good!
There's dark rich cremini mushrooms added for contrast not to mention the peas. The sauce will knock your socks off.

You can see how well the air fryer sautés up those big fat baby cremini mushrooms.
I actually like to use a fork with this recipe more than chopsticks. 🙂
As an Amazon Associate, I earn from qualifying purchases. This post contains affiliate links. Read my disclosure policy here.
If you take a photo of your perfectly seasoned cauliflower I would love to see it. Follow me over on Instagram and tag me on your photo @vegan_in_the_freeze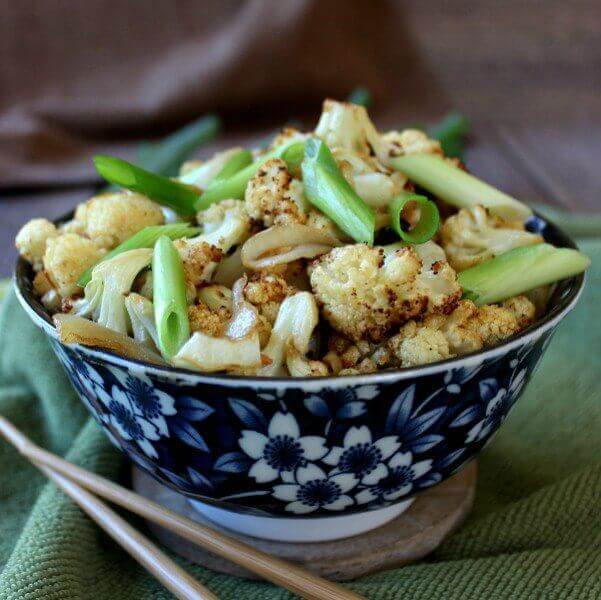 📋 Recipe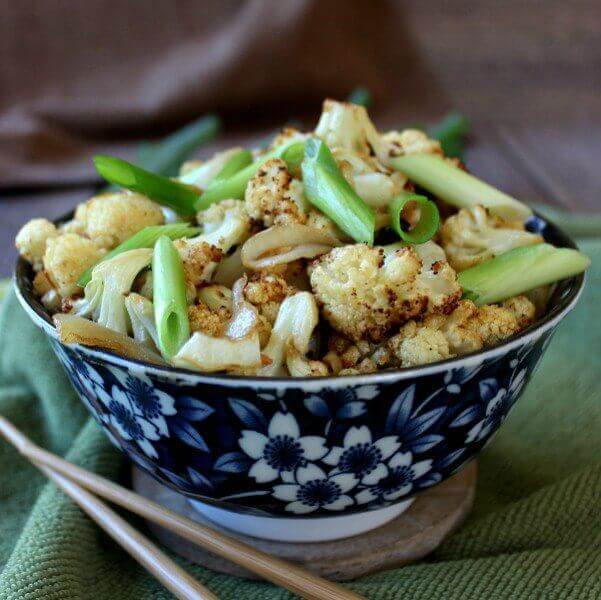 Air Fried Spicy Cauliflower Stir-Fry
Air Fried Spicy Cauliflower Stir-Fry is fast and simple.
Ingredients
1

head

cauliflower

cut into florets

¾

cup

onion

white, thinly sliced

5

cloves

garlic

finely sliced

1 ½

tablespoons

tamari

or gluten free tamari

1

tablespoon

rice vinegar

½

teaspoon

coconut sugar

1

tablespoon

Sriracha

or other favorite hot sauce

2

scallions

for garnish
Instructions
Place cauliflower in the air fryer. If your air fryer is one that has holes in the bottom you'll need to use an air fryer insert.

Set the temp to 350 degrees. Cook 10 minutes.

Open the air fryer, grab the pot by the handle, remove and shake and slide back in the compartment.

Add the sliced onion, stir and cook 10 more minutes.

Add garlic, stir and cook 5 more minutes.

Mix soy sauce, rice vinegar, coconut sugar, Sriracha, salt & pepper together in a small bowl.

Add the mixture to cauliflower and stir. Cook 5 more minutes. The insert keeps all of the juices inside.

To serve sprinkle sliced scallions over the top for garnish.
Nutrition
Serving:
1
cup
Calories:
93
kcal
Carbohydrates:
12
g
Protein:
4
g
Fat:
3
g
Sodium:
510
mg
Potassium:
519
mg
Fiber:
3
g
Sugar:
4
g
Vitamin A:
60
IU
Vitamin C:
76.2
mg
Calcium:
50
mg
Iron:
1
mg

Subscribe and New Recipes Will Come Straight to Your Inbox!