Acadian Black Beans and Rice is an updated version of the red beans and rice classic. Made with a variety of spices popular in Cajun country.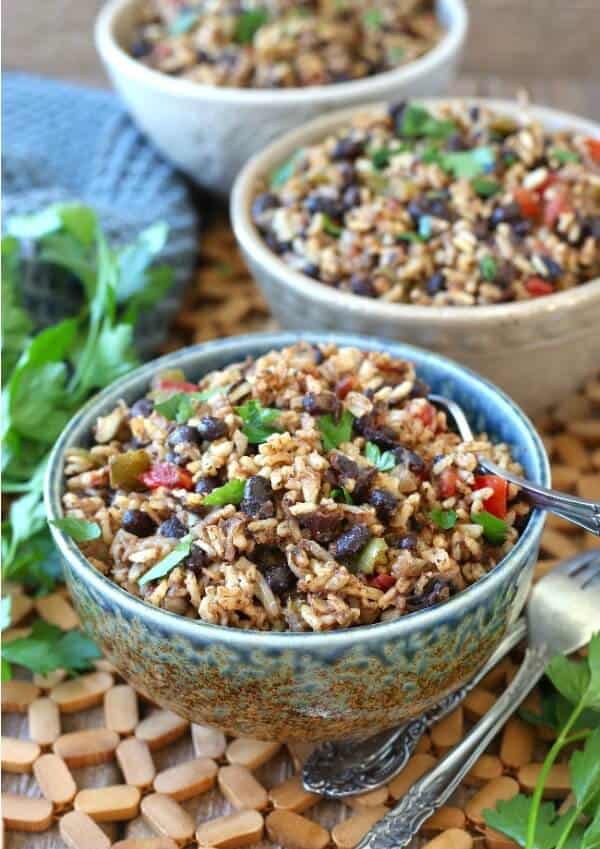 Everything about this recipe screams comfort! Even with all the spices it is mixed and melded for the perfect side dish. You can even make this a main meal.
Just add a big salad and crusty bread.
My extended family has roots in Avery Island. That is way way down on the south side of Louisiana and through osmosis I feel as though I have a closer connection there too.
Marcel Olivier, came to California from the Olivier Plantation in the early 1900's and through a close encounter with my Aunt Lou became my Uncle Frenchy. Yep, in those years, nationalities played a big part for your identity.
I am just now trying to put together his ancestry line but at least I have Acadian Louisiana.
Thick accents, unmistakable music and food traditions, that are uniquely Cajun, belong to America as one of it's most colorful regions.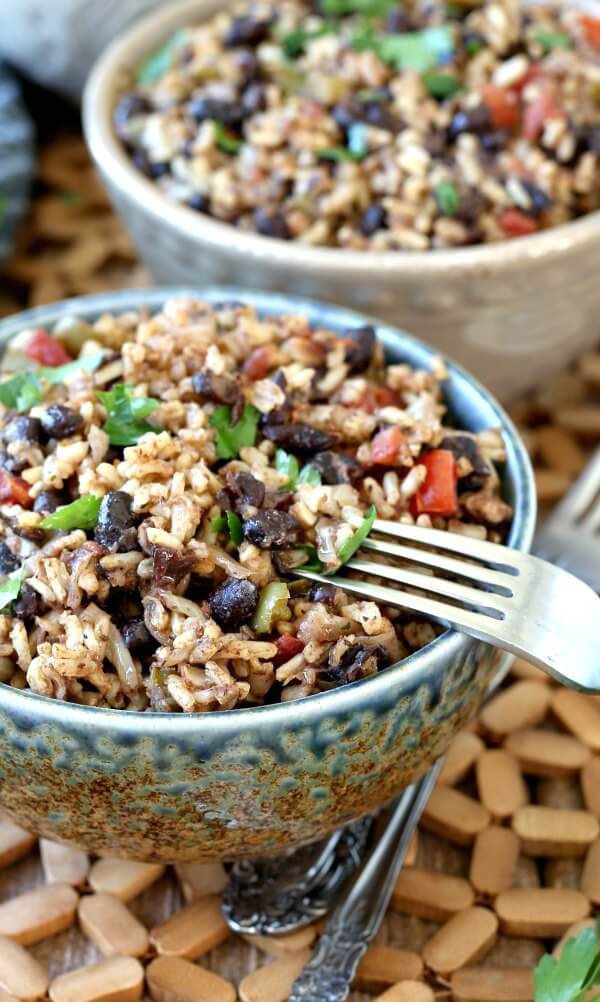 Spices like cayenne pepper, paprika and chili powder along with garlic and bell pepper make up part of the delicious Cajun flavors.
Different spices, flavors, and measurements make for some delicious meals.
And ... Acadian Black Beans and Rice is done in under 30 minutes. So easy. So fast. So tasty.
This is a big batch so you might be able to take advantage of leftovers for lunch also.
If you wanted to serve Acadian Black Beans and Rice as a side Cauliflower Po Boy Sandwich would be a fantastic main dish. Take a peek!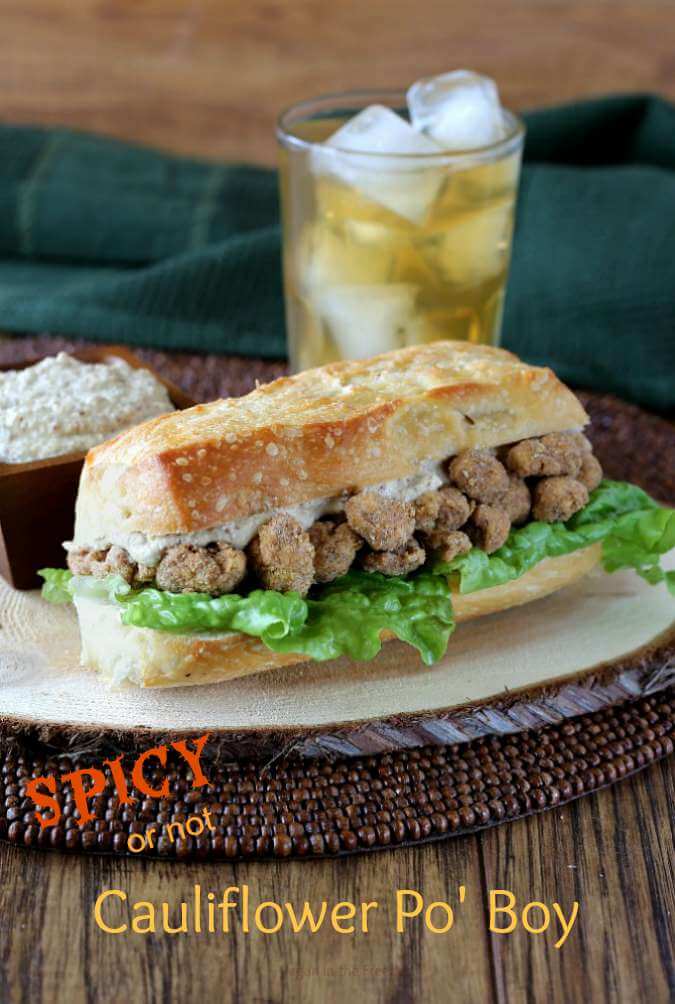 Don't forget the salad.
What are some other classic Acadian Recipes?
Beignets are must have when you visit Louisiana. Fried fritters balls sprinkled with powdered sugar.
Beets are grown in many areas of the state and canning pickled beets are popular because it's a great way to preserve the beautiful red vegetable to last the whole year.
White taffy made with either molasses, maple syrup or just plain organic white sugar is an Acadian sweet treat. As always it's wrapped waxed paper with twisted ends.
And how about the mix of truly Creole/Cajun/Acadian ingredients? Hot peppers, yams, greens, black-eyed peas, melons, coffee, and okra!
How do you Freeze Acadian Black Beans and Rice
To Freeze:
Let cool to room temperature. Package in rigid sided containers and freeze up to 6 months.
To Prepare After Freezing:
Remove from the freezer and put in the refrigerator for at least 6 hours. It will keep in the fridge 3 days.
The night of serving:
Put all in a large skillet and heat through. Add more vegetable broth or salsa if it becomes too dry while heating. You can also heat in the microwave for 2 to 3 minutes stirring every minute. Ready to serve.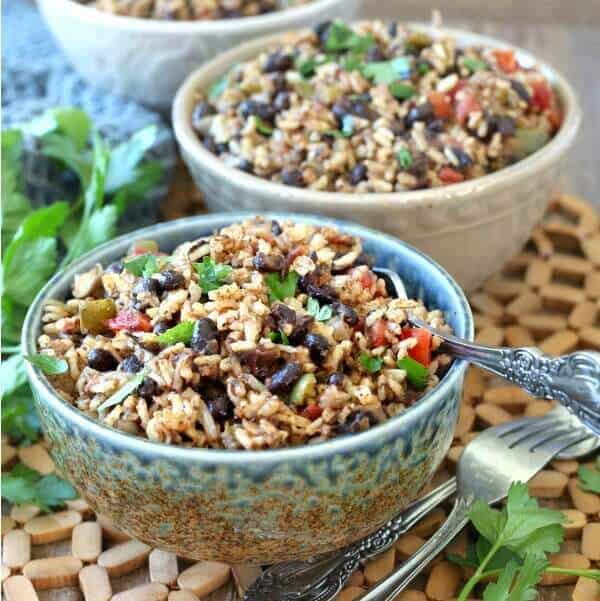 Helpful Tools for Black Beans and Rice

📋 Recipe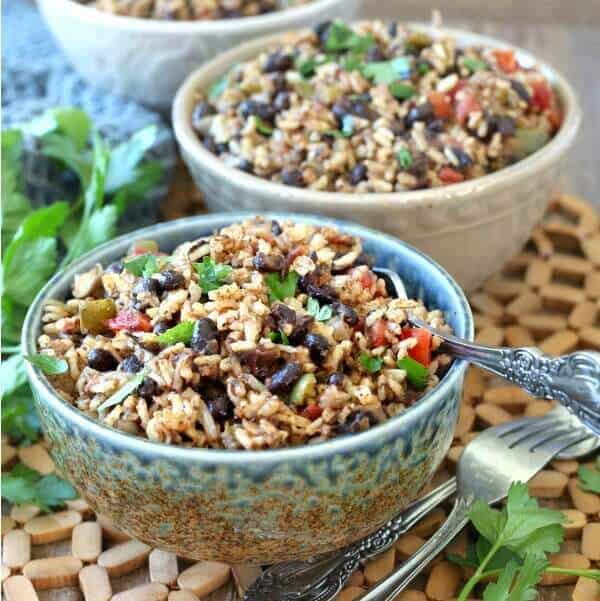 Acadian Black Beans and Rice
Acadian Black Beans and Rice is an updated version of the red beans and rice classic.
Ingredients
30

ounces

black beans

2 - 15 ounce cans each, drained

1 ½

cups

brown rice

3 ½

cups

vegetable broth

low sodium, for rice

1

tablespoon

extra virgin olive oil

½

yellow onion

chopped

1

green bell pepper

chopped

1

clove

garlic

finely chopped

¼

cup

tomatoes

diced

1

teaspoon

parsley

1

teaspoon

garlic powder

1

teaspoon

onion powder

1

teaspoon

thyme

1

teaspoon

oregano

1

teaspoon

paprika

½

teaspoon

cayenne pepper

¼

teaspoon

black pepper

1

teaspoon

salt
Instructions
Cook the brown rice in any method you choose. I use a rice cooker and I like to cook the rice with vegetable broth for this recipe.

In a large skillet heat the oil to medium and then add the onion and bell pepper.

Saute until the onion becomes transparent, about 10 minutes.

Add all the other ingredients (except the rice) to the large skillet that has the onion and bell pepper.

Cook for 10 minutes.

Add the rice and heat through.
Nutrition
Serving:
12
ounces
Calories:
400
kcal
Carbohydrates:
74
g
Protein:
16
g
Fat:
4
g
Sodium:
941
mg
Potassium:
699
mg
Fiber:
14
g
Sugar:
2
g
Vitamin A:
510
IU
Vitamin C:
18.2
mg
Calcium:
63
mg
Iron:
4.1
mg