Acadian Black Beans and Rice is popular throughout the south but I have decided to make it regional by adding the spices of the Cajuns.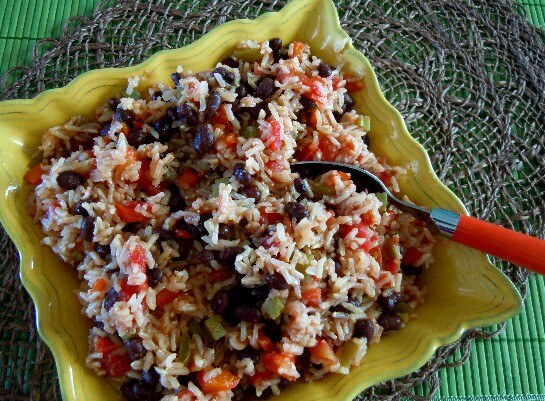 Acadian Black Beans and Rice is a popular comfort food throughout the south. I thought it would be fun to make it regional by adding the spices of the Cajuns.
My extended family have roots in Avery Island. Through osmosis I feel as though I have a connection there too.
Spices like cayenne pepper, paprika and chili powder make up the delicious cajun flavors.  You can mix and match any of them and they are all considered spicy.  This is my rendition of Hoppin John.
Ginny McMeans
Yields 6
Acadian Black Beans and Rice
5 minPrep Time
20 minCook Time
25 minTotal Time
Ingredients
2 cans (15 ounce each) Black Beans, drained
1 1/2 cup Brown Rice
3 1/2 cups Vegetable Broth for rice
2 tomatoes, chopped
1 green bell pepper, chopped
1/2 yellow onion, chopped
1 clove garlic, finely chopped
1 teaspoon cayenne pepper
1 teaspoon parsley
1 teaspoon garlic powder
1 teaspoon onion powder
1 teaspoon thyme
2 teaspoon salt
1/4 cup mild salsa, or salsa of your choice
Instructions
Cook the brown rice in any method you choose. I use a rice cooker and I like to cook the rice with vegetable broth for this recipe.
In a large skillet heat about 3 Tablespoons of water to medium and then add the onion and bell pepper.
Saute until the onion becomes transparent, about 10 minutes. They will also exude their own liquid to help saute. You don't want to boil them.
Add all the other ingredients (except the rice and salsa) to the large skillet that has the onion and bell pepper.
Cook for 10 minutes.
Add the rice and salsa and heat through.
Notes
TO FREEZE:
Let cool to room temperature. Package in rigid sided containers and freeze up to 6 months.
TO PREPARE AFTER FREEZING:
Remove from the freezer and put in the refrigerator for at least 6 hours. It will keep in the fridge 3 days. The night of serving - Put all in a large skillet and heat through. Add more vegetable broth or salsa if it becomes too dry while heating. You can also heat in the microwave for 2 to 3 minutes stirring every minute. Ready to serve.
6.6.15
https://veganinthefreezer.com/acadian-black-beans/