Wake up to Slow Cooker Irish Oatmeal. Throw it all in the crockpot in less than 5 minutes and when you get up the morning drizzle on a little maple syrup.
Wouldn't you like a nice warm healthy breakfast waiting for you when you wake up in morning?  Me too!
Slow Cooker Irish Oatmeal takes under 5 minutes to put together and you wake up to heaven in the morning.  Geez, I think I am going to make this again tonight.
Use the steel cut type of oatmeal because it really is 'the best'.  You can double the recipe and even freeze individual servings with maple syrup drizzled on top.
Ginny McMeans
Yields 4
Slow Cooker Irish Oatmeal
4 minPrep Time
8 hrCook Time
8 hr, 4 Total Time
Ingredients
1-1/2 cups Irish Oatmeal (steel cut oats)
3-1/2 cups water
1/2 teaspoon cinnamon
Maple syrup for drizzling in the morning
Soy milk or almond milk for drizzling in the morning (optional)
Apple chunks for adding to the oatmeal in the morning (optional)
Instructions
To the slow cooker - add the oatmeal, water and cinnamon.
Stir well and cook on low for no more than 8 hours.
If you have a timer on your crock pot and you can set the start time - that would be great. That is in case you want to sleep in and don't want to overcook the oatmeal.
Double the recipe if you like!
Spoon into a bowl and drizzle maple syrup over the top
Notes
http://veganinthefreezer.com/slow-cooker-irish-oatmeal/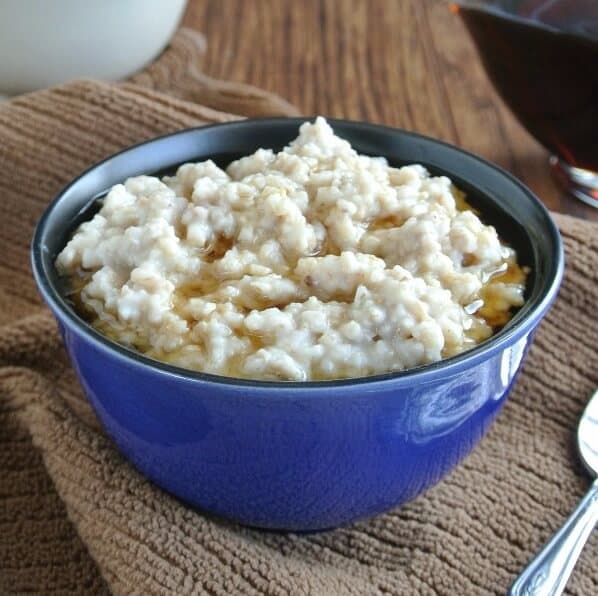 x